Every restaurant chain operator knows that simply serving great food doesn't guarantee success anymore. The biggest element impacting restaurant success today is the ability to deliver a unified food experience across channels.
But in the new world order, where offline sales are steadily being replaced or augmented by online and delivery sales, providing a consistent cross-channel experience is one of the biggest pain points for enterprise operators. In fact, most operators have 
totally lost control of the ordering, brand and guest experience.
It's fair to say that when order channels moved from operator-driven to consumer-driven models, the guest experience took a big hit. The reason for that is simple; the 
POS became virtual.
Suddenly, guests could order food on-the-go, on their smartphones, on tablets from the couch, on laptops at work, and on digital kiosks in the store.
While restaurant chains are moving quickly to serve guests across all these new channels, third-party delivery platforms and food service aggregators are continually innovating and show no signs of slowing down. Meanwhile, operators have been left with disparate technology stacks all attempting to do the same thing but with very different approaches. This has led to administrative and operational nightmares, not to mention the cost burdens that further squeeze profit margins.
But it doesn't have to be this way. A modern and open POS platform, if architected correctly, can significantly enhance the guest experience to a level that has never existed before, particularly in the fast casual and quick service restaurant industry. It can transform hungry guests, to happy guests, and has been proven to have a major impact on increasing revenues. 
In this blog, I'll share a five-step recipe that enterprise restaurant operators can use to regain control of their digital experience and create a truly connected restaurant brand. 
The Five Essential Ingredients Needed to Achieve Unified Food Experiences
Here are the five ingredients you need to create a fully connected restaurant brand and a scalable technology model for your enterprise. Even if you're managing multiple channels and brands, these critical 5 steps will get you to the promised land of data-driven and unified food experiences. 
1. Start With the Secret Sauce: One Core Processing Engine
The first ingredient to success, which enables everything else, is partnering with a POS provider that gives you a common core processing engine across all your channels. 
Having a common core built on a single database to collect, store, and move your data, will change the way you see your entire enterprise, giving you unprecedented access and visibility to your data. 
Until now, there hasn't been a technology advanced enough to actually do this. Enter Qu-1CORE—the brains behind the modern restaurant chain operation.
It's time to ditch the tablet-farms and redundant order processing requirements for each of your order channels. When you have a single engine that processes everything and can run your entire system, magic happens. 
A word of advice: when evaluating the performance of your POS platform, it's important to inspect under the 'hood' and into the core processing engine. The better the engine driving the platform, the better your guest experience will be.
2. Add a Delicious Layer of Bi-Directional APIs for Flavor!
Much like your favorite lasagna, you want to add a delicious layer of consistent APIs on top of your core (sauce). 
When looking at APIs, it's really important to remember that not all APIs are created equal. For too long, vendors touted APIs as the solution to all integration problems. "You want to add online ordering? Yes, we have an API for that! Loyalty? Sure thing, we have another API for that!" You get the picture.
When APIs are a "one-way street" and don't communicate with each other, you're essentially allowing your vendors to control your business. Why? Well because you lose the ability to make changes from a centralized control center. 
You want to look for bi-directional APIs. By having a set of bidirectional APIs that connect to your common core engine, in-store orders no longer need to be processed differently from digital orders. Meaning the manual data-entry finally stops. Not to mention, one of your biggest headaches with loyalty integration is solved. Loyalty rewards are collected and redeemed the same way across every channel – no disconnects equals happy guests. 
With a bidirectional layer of APIs, it won't matter if your guest logs in to a self-service kiosk in your store, is sitting on the couch at home using your mobile app, ordering lunch from their desk at work, or is seeing your menu on Google for the first time. Regardless of the occasion or ordering channel, their experience with your brand is uniform, it's consistent, and exceptional!
3. Replace Menu Mayhem with a Dash of Unified Menu Management
Solving your operational chaos starts with one unified menu management system. 
Some restaurant operators have upwards of 20 menu systems and countless versions of their menu circulating around. It's a recipe for disaster in our fiercely competitive digital world. It's time to swap out the menu mayhem for a unified menu management solution.

A unified, single menu system simplifies menu management across your entire operation, whether you have 10 locations or 10,000. It also drives increased efficiency with: 
A centralized way to manage all menus from one place.
Increased flexibility for operators and franchisees, with limitless freedom to update menus, pricing, promotions, taxes, service-charges or locations. 
The ability to easily and seamlessly decide what menu items are sold where, when, and for what price, both in physical stores and across all your digital channels.  
Qu's menu management system (Qu-1MENU) and platform architecture ensures transactions are processed the same way across channels and changes are uniformly applied through one logic point, database, and engine. Updates to Qu-1MENU can be easily and holistically applied to other locations, menus, and brands as directed by the user.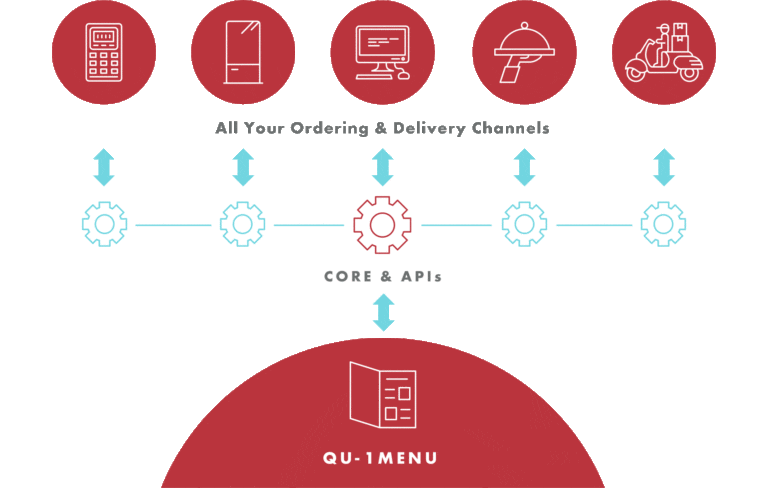 4. Adjust the Temperature to Sizzling, with One Powerful & Dynamic Management Hub
Now that you have the essential ingredients to run your business effectively, it's time to cook up a connected brand by setting the temperature to sizzling with a powerful and dynamic enterprise management hub. You can manage all of your POS configurations and reports from one central control center on Qu's Enterprise Management Hub.
Our enterprise management hub is different because it provides the unique features called Dynamic Items and Dynamic Stores. 
Dynamic Items give operators the freedom to customize items, layer multiple dimensions and add attributes based on context—all without ever changing the master item. Operators can configure every menu item to have unlimited dynamic contexts, including day parts, order channels, branded imagery, pricing and promotions, and more.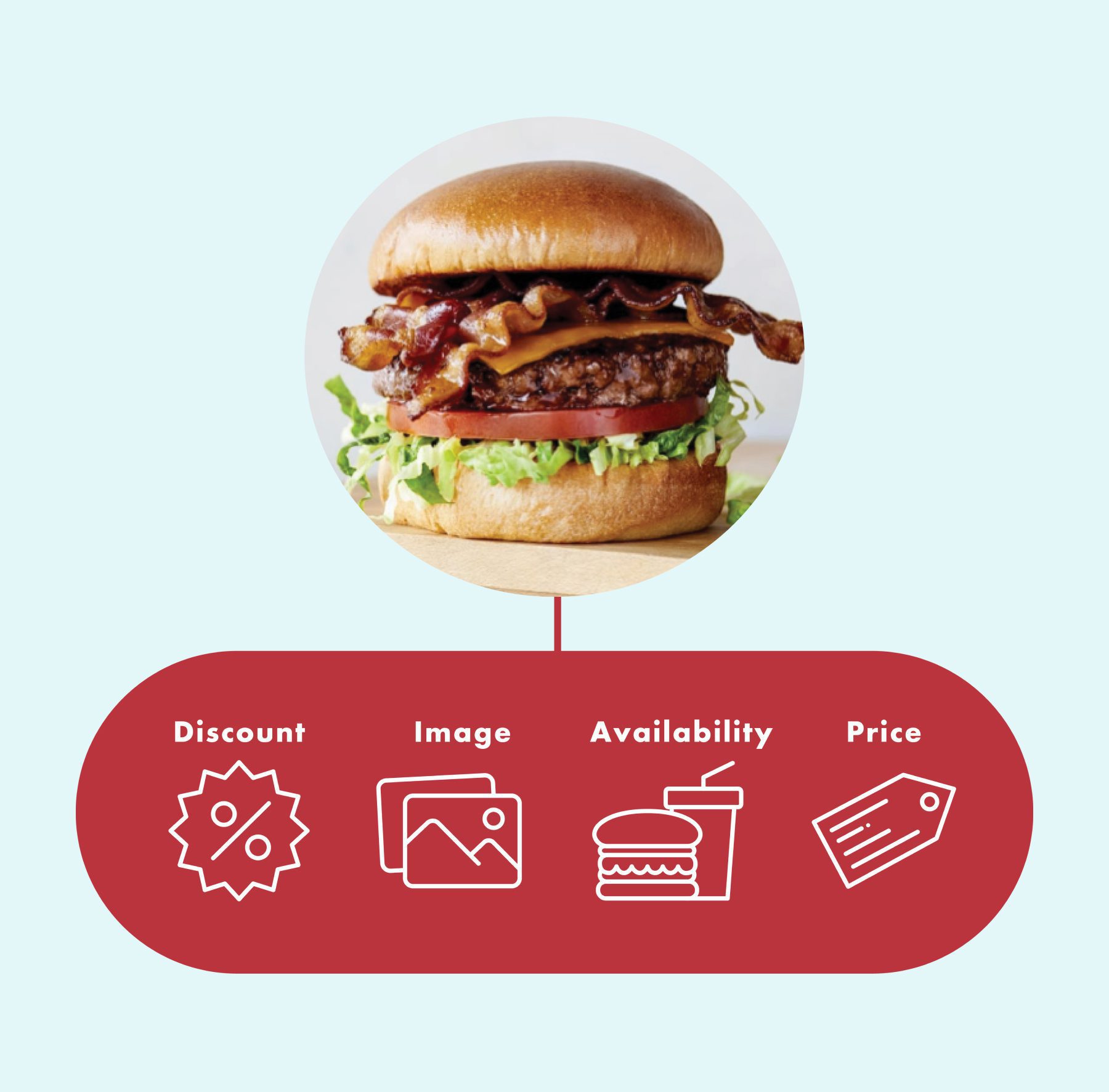 Dynamic Stores provide more granular control and data governance. This is an especially useful feature for large brands with franchisees. The dynamic store groups enable data inheritance and tagging across categories. Operators get endless flexibility, with six ways to configure store groups: 
By menu
Store location
Employees
Tax groups
Discounts
Service charges. 
5. Now You're Ready to Enjoy Delicious & Dynamic Data
Now that you've held your POS partner to all of the above, you're here. You've made it to the promised land and you finally have a single source of truth. Decisions previously made on "gut instinct" can be made using concrete information improving accuracy, accountability, and transparency.
It's time to enjoy the delicious fruits of your labor with a single database that has all the information you need to make smart business decisions.  Qu is paving a new way forward for enterprise restaurant operators to more easily unify data across ordering, production, and brand functions. With Qu's unified POS platform, your data is easily accessed, analyzed, and turned into actionable insights. 
As an operator, it's time to hold your POS partners accountable to deliver products that help you with today and tomorrow's needs. For too long, brands and their franchisees have thought of their POS as a necessary evil—necessary sure, but evil it should never be!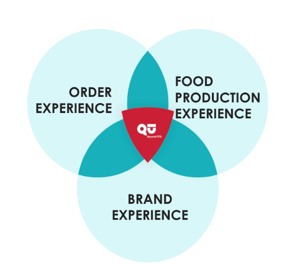 At Qu, we're building a future where restaurant chain operators have the freedom and control to build their brands how they see fit. 
Delivering an exceptional guest experience starts with understanding that there's a deep interplay between food ordering, food quality, and brand engagement. 
Enterprise restaurants that are able to unify these often-disparate experiences are the ones who will win in an increasingly fragmented digital future. We know that as a POS provider, we aren't the center of your business. We recognize and ensure that your brand and your guests are at the center of your world.
You can take advantage of the explosive digital opportunities and achieve unified food experiences with a POS partner like us. This is why I am so proud to lead this company.