Restaurants are fighting to stay open. COVID patients are fighting for their lives. Front line responders are fighting for all of us and our country.

We had to do something to help all those fighting for survival right now.
Our answer: Feed the First Responders, a charitable initiative supporting the severely impacted restaurant industry and the first responders fighting COVID. 
The program pairs restaurant brands with local first first responder sites of their choosing to deliver fresh food as purchased by generous contributors. We've launched this initiative with our self-less partners at Dunn Bros Coffee, SaladWorks, and Luke's Lobster—but we're actively seeking more restaurants to participate. 
Join us in our effort to provide much-appreciated nourishment to our tired frontline works, while generating needed revenue for your business. All restaurants are eligible to participate, regardless of previous affiliation with Qu and current POS in use. The best part, no hardware or software is required—we set everything up for you using our native online ordering.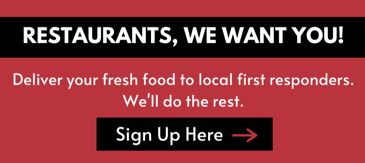 Select the medical facility, police or firefighting station where you want to deliver. We suggest you pick a nearby facility, and coordinate to make sure they're able to accept food deliveries. 
Qu creates the menu items of your choice (6 items max suggested) in our online ordering platform.
Qu works with you to promote the initiative to your customers and local market. 
Orders will be received at the store via an email address. Orders can also be accessed online through our cloud-based reporting module. 
Payments are processed by Qu (we act as the vendor and handle all tax responsibility). Qu will distribute the collected funds on a regular basis to the brands via ACH. 
The user receives an email thanking them for their contribution; and a photo to share on social media.
Other Details on the Program:
No hardware or software is required. Qu provides access to its online ordering software.
The restaurant's only obligation is to deliver the food. We suggest that you bundle and batch the orders into large quantities to avoid small deliveries. 
Monetary donations may be one of your menu items.