A recent
QSR Magazine
article highligh
ted

15 ways fast casual brands will change in a post-COVID world,
predicting that pent-up consumer demand
and less restaurant brand competition means there are a lot of opportunities for growth.
And as Christopher Lochhead explains on his podcast, we're heading into a new era of the "Roaring 20's." Now is the time to seize new market opportunities, grab new guest demand and attention, and reinvent your restaurant for the post-pandemic consumer.
We are gearing up for a rosy period due to the upcoming Great Human Reconnection.
– Kevin Johnson, Starbucks CEO
Here's our take on the top tips related to your Reinventing your Restaurant Operations to take advantage of the coming spending frenzy and great human reconnection period we're heading into. Are you ready to make the most of the new "Roaring 20's"?
1) Develop an Omni-Channel Strategy
The first tip is listed in the 
QSR article
 is to develop and deploy an omni-channel strategy. We couldn't agree more! Jeff Hall, founder of customer satisfaction firm Second to None, says 
consumers will still prefer takeout, delivery, and other off-premises channels
 even when they're able to dine in again.
Our recent
 State of Digital
 survey revealed that 63% of fast casual and QSR brands will upgrade some part of their digital ecosystem in 2021. Participants noted upgrades to their digital ecosystem would span from mobile, apps, and loyalty, to contactless payments, digital menu boards, CRM, and AI-based systems.
To do omni-channel well, though, you need a solid, 
modern technology foundation
 to connect all the channels and capture centralized data. Don't make more work for yourself by buying disconnected systems, check out Qu's unified commerce platform.
2) Embrace Digital Everything
Digital tools should be the foundation of your entire restaurant operation. Qu's
 all-in-one enterprise restaurant POS solution
 is the perfect hub. It's an intelligent and intuitive platform that manages your omni-channel orders (digital and in-store) from one central location, delivering data-rich experiences for operators and guests.
Additionally, the increased emphasis on integrated digital platforms and data flow gives restaurants the opportunity to explore and implement high-value loyalty programs. Recently, two restaurant loyalty experts were featured on our 
Restaurants Reinvented
 podcast—Diane Le from Punchh and Olga Lopategui from Ollo Consult—who provided insight into how brands can drive tangible business benefits from loyalty.
This episode
 covers how to build more meaningful relationships with your guests and all the fundamentals of a "modern-day restaurant loyalty program." Most important, the two agree, is a focus on better understanding your customer, establishing relevance, and building a one-to-one relationship that shows you care.
3) Revisit Your Growth Strategy
QSR notes that guests now expect brands to transform on a regular basis. We talked about this at length with 
Lidija Davidson,
 Brand Guru, on a recent podcast. All businesses, and restaurants especially, need to revisit their brand and messaging to make sure it resonates with consumers in the post-pandemic state.
With so much value associated with establishing a differentiated brand that resonates with guests—along with the growth and change being driven by digital—restaurants have been forced to be creative, in order to remain competitive. 
Ghost, host, and virtual kitchens 
are great examples of this kind of innovation, which helps broaden reach and provide higher-margin revenue than many "traditional" brands
There's never been a higher receptivity to new stuff than right now.
– Christopher Lochhead
Qu's
KitchenUp solution
supports the unique technology challenges associated with rolling out these new operating models
, freeing up valuable time and resources needed to build a fresh, relevant brand while delivering high-quality food to more and more guests.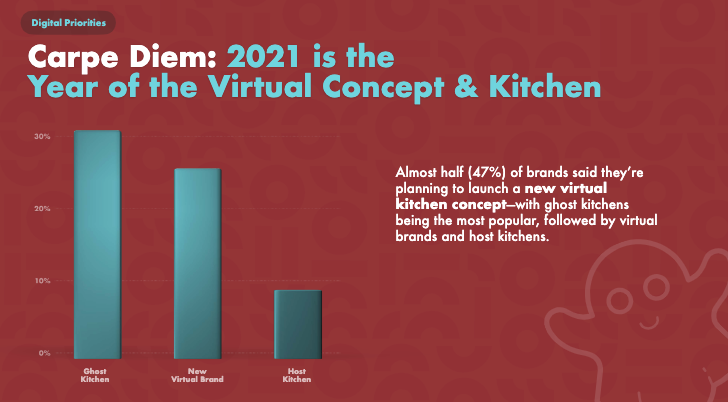 We've seen how managing your menus across all the new and expanding order channels has left Quick Service and Fast Casual operators in a technology mess. There are too many menus and systems to configure, manage, and constantly update. The result is often a disjointed brand experience for guests, inaccurate orders, and inefficient use of restaurant resources. An enterprise-level
 single menu management system
is the perfect tool for making your restaurant operations more efficient.
5) Don't Abandon Dine-In Business
Although it might seem that dine-in has taken a back seat to digital and delivery, brands can't afford to abandon their in-restaurant experience—especially in a post-pandemic paradigm. Success these days involves implementing an effective omni-channel strategy, one that makes the most of both digital and physical channels, rather than focusing too much on one or the other.
When shifting between these worlds, it's critical for systems to be aligned and talk to each other. A great example of this is Church's Chicken, who recently
 selected Qu as its enterprise POS partner
. With a digital-forward platform, Church's users gain access to a unified POS for on- and off-premise orders. This enables more informed data-driven marketing and better guest engagement opportunities.
Some of worlds top money managers are betting on post-pandemic spending boom.
– Bloomberg
These are just a few of the ways restaurants are changing in the post-pandemic world. From increasing digital components to amplifying your tech stack and revitalizing your brand, there are a variety of approaches to evolution.
What new strategies is your restaurant planning to launch this year?