Today's female CEO super-star, Betsy Hamm, joins Restaurants Reinvented to talk about franchise marketing, branding, community involvement, empathetic leadership, & so much more!
Betsy is the new CEO of 
Duck Donuts
, a successful donut shop franchise with 100+ stores worldwide. She entered the restaurant industry after working at Hershey Foods for 14 years. After that, Betsy started the formal marketing function at Duck Donuts, moved into operations, and is now the chief executive officer. From the time she joined the company five years ago, Duck Donuts has achieved 5x growth and continues to expand across the globe.
We're so excited to have a smart, strong, and courageous female marketer turned CEO on our show today!
Name:
 Betsy Hamm
What she does:
 She's the Chief Executive Officer at Duck Donuts, one of the fastest-growing donut shops in the U.S.
Company: 
Duck Donuts
Key Quote:
 "We don't have millions of dollars in our marketing budgets. So we do have to be very strategic and also very engaged with our customers to maximize their love for us."
️
 Where to find Betsy: LinkedIn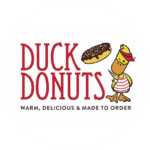 The beauty of a franchisee brand
Betsy & Duck Donuts stresses the importance of community involvement and their franchisees excel at being extending the brand locally, anything from donating donuts to schools to dropping some off at the local fire station. The marketing "…really has to be from the franchisee's perspective … getting them to really own the brand and elevate their game to help grow the brand and their store sales…" is the focus on Duck Donut's branding.
What does a well-thought-out franchising model look like?
Duck Donuts has an interesting franchisee model, which allows the company to grow much faster. Their main focus is to find franchisees that fit their culture and model.
"The interview goes both ways, making sure that we're a good fit for them, but they're also a good fit for us. And we do even use 
The Predictive Index assessment
, which is behavioral, which is very interesting. So just to make sure somebody will have the right approach. We have a profile of what makes a good franchisee based on our current successful franchisee.
So, it's a process. And then they'll come in for discovery day and then usually after that, so we both decide, 'Hey, do you want to get married?' Is basically how the relationship works 'cause it's a long-term commitment."
The importance of being empathetic, realistic, and positive. As humans, leaders, and workers. Betsy focuses on constant communication with franchisees to help them get through uncertain times.
"I think the biggest thing is communication and keeping that positive tone, that positive vibe, but also being realistic. And I didn't want our franchisees last year to think that we weren't being empathetic. We didn't want to come across that everything was sunshine and roses. We knew it wasn't. I knew it sucked. That was just how it was. But I think being empathetic and real about it, but trying to have that positive tone and just constant communication, I think that's what really got us through last year, especially with our franchisees was just constantly communicating with them."