We're thrilled to celebrate alongside our customer, Luke's Lobster, as they hit a major milestone: ten years of serving delicious and sustainable lobster, the Maine way! When it comes to Luke's Lobster, indulging in a lobster roll has never been more guilt-free: each and every lobster is sustainably harvested and traceable back to its harbor of origin. 
I recently had the opportunity to sit down with Ben Conniff, Co-Founder and CMO at Lukes, to discuss their amazing 10-year run and what's next for the shack.
It All Started with Fresh Lobster: A Peek Inside the Shack
Luke Holden, the co-founder of Luke's Lobster, came from a family of Maine lobstermen. And as a third-generation lobsterman himself, he had grown accustomed to fresh, high-quality lobster. But after graduating from college with a finance degree, Luke moved to New York City and couldn't find a good, affordable lobster roll to save his life. 
He quit his job on Wall Street and teamed up with Ben Conniff, then a freelance food writer, to open their first shack—the term affectionately used to describe their restaurants—in October 2009. Since day one, Luke's mission has remained the same: know your seafood and treat other people the way we want to be treated. 
The Luke's Lobster team celebrated their 10-year anniversary in style with celebrity chefs from each Luke's city putting their own spin on Luke's signature lobster roll. For every lobster roll sold during October, Luke's donated $1 to a charity of the chef's choice. As a certified B Corp, Luke's takes its giving back initiatives very seriously.
It's no secret that Luke's Lobster does things a little differently than most. For one, guests get to know where the seafood was caught, how it's caught, who's catching it, and how it gets to their plate. It's even mapped on the wall in each restaurant, where you can see exactly the harbor from which your lobster was sourced.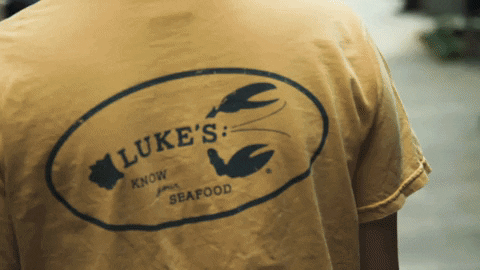 In line with more healthy eating trends, including the popular "farm to table" vibe, Luke's guarantees a fresh, traceable approach with a strong dedication to sustainability. Their business model cuts out the middleman and embodies a "sea to table" concept that uses best-in-class technology to steam its seafood to perfection, and when necessary based on the fishery's seasonal fluctuations, to freeze it to below zero degrees in 10 minutes without changing the molecular structure of the lobster tissues. With this technology, Luke's can ship seafood around the world for a ridiculously fresh taste that's the same whether it's eaten in Maine or Japan, summer or winter.  
From that original store in the East Village of Manhattan, Luke's Lobster has opened 35 additional stores across the United States and the world. They've even successfully expanded into Japan, impressing some of the most distinguished palettes for seafood in the world. 
Beyond opening new store locations, Luke's has its eyes on a multi-vertical growth strategy, including retail and international markets. They've expanded into new countries as an ambassador for Maine lobster and have built a successful consumer packaged goods business with a pipeline of new SKUs that are being distributed through some of the world's most respected retailers. In 2018, Whole Foods awarded Luke's Lobster with the Global Supplier of the Year award for providing lobster tails and branded lobster-meat packages to their freezer case, and giving a portion of their sales back to the fishermen-owned co-ops that caught the lobster. 
But inside the shacks, Luke's core focus is on providing an amazing hospitality experience. For Luke's, the customer experience is everything: guests can look someone in the eye, have a genuine conversation, and be treated as if they're family. They'll leave remembering the smiles, quality taste of seafood, and friendly atmosphere. I know this for a fact because this is how I felt when I was at a shack in Bethesda, MD, recently.
How Technology Supports Luke's Mission: A Single Menu Management System
With Luke's ambitions to grow their locations, distribute the brand across multiple verticals and scale across the globe, technology is critical to enabling their expansion. The core focus of every employee is to deliver an exceptional hospitality experience, so the executive team is committed to ensuring technology supports that experience. The role of technology at Luke's is to act as an enabler to achieve a holistic, consistent, and ultimately unified food experience throughout all their shacks. With 36 locations across the United States, Japan, and Taiwan it can quickly become difficult to get a singular message or system change across their entire enterprise. Doing so requires a smart system—something they now have with Qu.
According to Co-Founder, Ben Conniff, "achieving a unified food experience through a single menu management system is really important because we're focused on hospitality to guests and on treating our seafood the right way. Anywhere there is friction in the technology or the systems of our business, it detracts from our ultimate goal of providing an exceptional experience, sharing our message, and creating a perfect product. 
"When we can remove that friction and make that experience holistic, simple, and smooth, that's going to be something that betters our business on the whole. Qu's gotten us much further along the way toward that."
To continue on their road to a frictionless technology experience, Luke's is strategically planning to implement a unified restaurant menu management system with Qu that'll cut the amount of time spent on editing multiple menus across multiple channels. Making edits one time in a unified POS menu is a game-changing capability that enables key resources to engage higher-impact aspects of the business. 
Ben added, "One of the smartest and hardest-working people on our team spends so much time editing multiple menus across multiple channels, making the same change in five different ways, for five different parties." 
"When you think about what she could be doing with that time…she could help us evolve and improve other parts of our business. With our new menu management system, we look forward to her making one change, one time, in one system." said Ben.
Luke's Lobster Gives Back
Partaking in Luke's Lobster isn't just about enjoying a delicious treat; it's also joining Luke's investment in projects that clean up and preserve the environment along the coasts. Luke's Lobster places enormous value on fishing seafood sustainably and engages this in a way that's beneficial to the communities and fishermen. 
Luke's giveback initiatives aren't limited to Maine or even the United States; waterway cleanups in DC, Philly, Chicago, and San Francisco are critical as well as investment in disaster cleanup in Japan. They are extremely proud to have attained certification as a B Corp, a new type of corporation that uses the power of business to solve social and environmental problems. 
Find a Luke's Lobster near you, and try their new winter menu (with lobster mac and cheese!).