A brand doesn't define you, says Andy Rebhun, VP and Head of Digital at El Pollo Loco. What he finds most influential for both an organization and an individual are their bosses. They can transform your leadership style and inspire you to be your best self.
Andy says he's had some great bosses in his career — which he credits with turning him into a compassionate and collaborative boss himself.
On this episode of Restaurants Reinvented, host Jen Kern interviews Andy about his leadership style at El Pollo Loco and the many digital campaigns he's led both before and after the emergence of COVID-19.
From his early MBA at 
Chipotle
 (Master Burrito Ambassador) to cutting his teeth in ecomm and digital marketing at Ford, and was one of the first hires on 
McDonald's
 USA digital team. Now he's at EPL leading the digital charge and taking the industry by storm.
Andy shares how his mindful approach to leadership doesn't apply only to his workplace. He tries to offer his expertise wherever it's needed — that means helping others in the industry who have been affected by the pandemic.
"If for some reason you've been laid off or your restaurant had to close, call me, contact me on LinkedIn. I'd definitely be willing to help you figure out how we can get you back on track," he says.
  Name: Andy Rebhun
  What he does:
Andy is Vice President and Digital Officer at El Pollo Loco, a fast casual restaurant chain with 480 restaurants across the West and South, where he has worked to rewrite the brand's narrative through digital marketing and communications.
Company: 
El Pollo Loco.
Key Quote: "
There are 168 hours in a week. So, you have the ability to control those 168 hours however you want. There's always time. You just have to be purposeful with how you use that time."
Where to find Andy: 
LinkedIn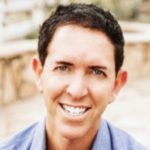 🌶️ Andy was brought into El Pollo Loco to reestablish the brand through digital campaigns and programs.
This included improving its customer loyalty and engagement as well as working with delivery partners to improve their off-prem model — all within his first 90 days at the company. But he stepped up to the challenge, quickly and effectively transforming the foundation of El Pollo Loco's digital business.
🌶️ After the pandemic hit,
Andy and his team took a step back to identify what was working well and determine how to move forward in a way that made customers feel safe. As their off-prem business took off, Andy's team decided the best way to offer value to customers was with a free delivery program… indefinitely. Their "free delivery for however long is necessary" program is ongoing and has in fact increased their orders fivefold. "We wanted our consumers to know that we cared about them and that they could still experience our food safely."
🌶️ At a time when everyone is spending more time on their phones, flooded with information, it's not easy to stand out from the crowd on social media.
According to Andy, the key is listening to your audience and engaging with them. Interacting with customers through comments and examining data like click-through rates, engagement and video completion rates are all ways to get a better idea of who they are and what their behavior is like. Find out how to resonate with your audience, make sure you're maintaining two-way dialogue and, most importantly, show that you care, Andy advises.
Follow the data to customer satisfaction
"The data leads to all roads. At the end of the day, the beauty of a loyalty program and of being able to see customer transactions is, you can see trends and where the business is going, you can see what people are spending, how often and where they're visiting, and at what time of the day. So, I'm looking to utilize that data to its utmost effect."
Launching curbside in 6 weeks
"It required a lot of being able to be flexible, a lot of long hours, but ultimately we felt like this was a necessity. … You look at the space right now, and you see how restaurants have been able to adapt their business. Curbside was a cornerstone of being able to go to market and continue to feel safer or allow that safety that the consumers wanted to feel experiencing your brand. We're thrilled that we are able to get curbside launched so quickly."
Digital-first personalized marketing
"People like personalized marketing, and TV is great for mass awareness, but with all the data that we have at our fingertips today, you're able to get a much more personalized advertisement to consumers through digital media. We were at about 5% digital media spend 14 months ago. This most recent quarter, we're up to 35%. It's indicative of the way the audience is wanting to experience and consume media, consume the brand."
Cycling through campaigns every 8 weeks
"Every single campaign is really neat at our brand because typically we go through eight-week cycles where it's essentially an LTO and we advertise our sustainable value platforms that I talked about earlier."
Pushing through little failures to bigger successes
"You have to get a little bit uncomfortable if you want to progress as a brand and move the needle for the business. We had to have some of those uncomfortable conversations, but I think ultimately, as we started to deliver on some of the metrics that we established as key metrics for success, you start getting some wins and some credibility and you can start running, which we were able to do — which was great."
Keeping options open for positive change
"We're continuing to evaluate the way we do business. We continually look at the numbers, the times, landlords have a big say over how you can build on the property, so we continue to evaluate the situation and we'll go from there. But I think it's a possibility, and we're exploring all options at this time. I don't think anything's off the table."
Choose your bosses wisely
"A brand doesn't define you. While a brand is an eight hour, 10-hour, 12-hour a day job, it can be a part of your being, but a brand doesn't define you. Bosses define you. Bosses change your leadership style. Bosses change how you can elevate talent within an organization. Bosses challenge you to bring your best self to work every day. Bosses bring the weather."
Data Here, Data There, Data Data Everywhere (About those Data Silos)
"One thing we committed to, pre-COVID 2020, was that this was no longer the year of our own point of view or feelings about the growth trajectory of Dog Haus. We decided we need to focus on the data. What is the data telling us? But, you'll find data in that corner, underneath the couch, over there in your car, maybe at your favorite vacation spot. It is so hard to aggregate all the data, DSP data, restaurant data, POS data, credit card data, app data, open rates in your email partner, SMS conversions. What it means to get all that information and decipher it, and to be able to use it is great. It helps us make decisions and move forward."