FULLY INTEGRATED KIOSK TECHNOLOGY
Qu's kiosk options will help you more confidently manage labor challenges with flexible POS devices or standalone kiosk options.
Our "flex" POS kiosk can swivel to be cashier or guest-facing based on your in-store traffic and labor availability. Plus, bundling software and hardware with Qu removes pricey hardware costs.
Empower your guests with endless choice and customization that increases per ticket averages and lowers operational costs. Finally an affordable kiosk option that won't destroy your budget!
Direct POS and kitchen integration
Consistent, unified menu management
Brandable user interface
Familiar order and payment flow
Deep item and menu customization
Self-service ordering can increase check totals by 30%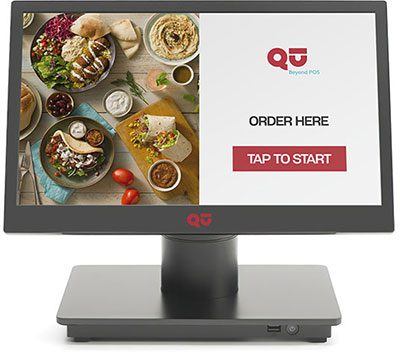 Optimize in-store operations
Confront labor shortages head-on and lower operational costs. Bust your in-store lines and reduce overall wait times.
Empower guests with limitless customization, while boosting top-line revenue with bigger per ticket averages.
Consistency in self-service
Delightful ordering experiences, powered by single menu management, an easy user experience, and direct integrations with your POS and KDS.
Increase in average check size

In today's world, customers decide how they want to engage with you: from phone and online ordering to mobile apps and kiosks. Qu works seamlessly...without needing additional labor to support all those channels.
Vice President, Yogurt Mountain
Convenient, familiar self-service interface
Deep item customization functionality
Rich, image-based ordering experiences
Limited time offer and promotional capabilities
Consistent, single menu management
Top 10 Components of a
Unified Commerce
Platform