Single menu management empowers brands with one administrative system for all locations, brands, and channels. Make a change in one place, and see those changes inherited across your menus, brands, and locations in seconds. Whether you have 20 or 2,000 locations, a unified menu management approach empowers brands with unrivaled speed, consistency and flexibility. 
Dynamic, contextual menu management
Limitless item, pricing, and promotional customization
Unified ordering experiences
Enhanced data security
Single API structure and database
Centralized administration reduces management time by up to 90%
One menu to rule them all
Centralized menu management to offer your guests consistent ordering experiences, no matter which channel they're ordering from.
Improve your top and bottom lines with reduced management time, enhanced speed to market, and faster response times.
Create dynamic store groupings based on categories of similar data, and easily access analytics on menu item performance.

As we examined every aspect of technology at our locations, we knew that we needed to have a uniform option to benefit both our franchisees and guests.
- Former Chief Executive Officer, Saladworks
Key Single Menu Management Features
Cross-channel menu management
Unified view of menu and item data
Deep item customization capabilities
Single operations and menu database
Centralized brand administration
Why Dynamic Menu Items are the Future of Restaurant Data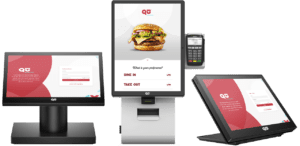 Top 10 Components of a
Unified Commerce
Platform