Technology is a constantly evolving landscape, and in the restaurant industry, operators are increasingly bombarded by new tech opportunities and products, says Erin Levzow, VP of Marketing Technology at 
Del Taco
.
Erin is not new to the intersection of marketing and technology. An early digital marketing native, this tech-minded marketing executive brings years of experience in hotels — and for leading restaurant brands like 
Wingstop
 and 
Freebirds
 — to Del Taco where she's focused on building a strong foundation for future growth and scale.
She's been working in MarTech for various industries since internet marketing first became a thing. But the restaurant world is only just now catching up. "I never came from the traditional [marketing] side to learn the digital side. That was my bread and butter."
On this episode of Restaurants Reinvented, host Jen Kern talks to Erin about her new job at Del Taco, a role that didn't exist before her. As Del Taco's VP of Marketing Technology, Erin strives to ensure that every decision regarding tech and data is oriented toward understanding the consumer and what they want. In general, she keeps an eye on big tech companies and their innovations to stay ahead of the curve in the restaurant world.
 Name: 
Erin Levzow
 What she does:
 Erin recently became the VP of Marketing Technology for 
Del Taco
, a new role she's approaching head-on. She intends to focus on honing in on the fast food chain's customer base using data.
 Key Quote: 
"I look at the world through a positive outlook. To me, the word 'no' means nothing. The word 'no' just means I have to find another way. It never means no."Connect with Erin on 
LinkedIn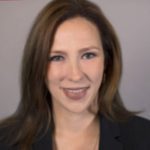 🌶️ Having kicked off her career with a job in internet marketing,
Erin has a lot of experience with technology and digital marketing. She's helped build new systems for restaurants to make them more efficient and customer-friendly, and she's spent years working in MarTech. 
All of this experience has led Erin to her job today 
as VP of Marketing Technology at Del Taco, but she recognizes that there's still plenty of room to grow since 
restaurant technology
 is always evolving. "
I have a nice foundation to grow off of and history to pull from. But every day I'm learning something new
," she says.
🌶️ When trying to determine where to focus her efforts, Erin says it's important to look at the existing foundation first.
For example, at Del Taco, she spent the majority of her first five weeks in her new role analyzing data and understanding what programs they already offer, like their app and email program. Only once she has a firm grasp of the company's baseline strategy can she begin to consider the best ways to build it up without breaking it or inserting unnecessary additions.
🌶️ Erin talks about personalization as a way to instill loyalty in customers.
However, in her eyes, it's an overused term that "gets thrown around a lot." Erin points out that it's almost impossible to fully personalize a service or product. Instead, she likes to use the concept of micro-segmentation, a way to talk directly to individuals and offer them exclusive things. According to Erin, micro-segmentation also happens to be a more budget-friendly approach.
What Loyalty really means
"I have a focus on loyalty and CRM. And I would tell you that's what our future holds. I think the word loyalty gets a bad rap. I think people think of loyalty as 'Come in nine times, get the 10th free or earn X amount of points.' I don't think about it that way. When I used to do training and development, we would say loyalty is creating employees who have a sense of purpose and pride. That creates loyalty. And so how do you give that to a customer? How do you help incite the feeling that there's purpose behind what they're doing, eating?"
Beyond the initial Request for Proposal: getting to the meat
"I'm not a big believer in RFPs because I think an RFP is a meaningless conversation you get out of the way in order to get to the meat of the conversation. I'd rather jump into the meat of the conversation."
Being mindful of how you use people's data
Erin is an expert when it comes to understanding restaurant data and how our personal data is being used. "Just be aware of what is out there about you. Don't fall into the trap. We just need to make sure that our data and our data security is top-of-mind. For us, it's really important how we look at it, and it's not looking at as just 'Let's just target them based on things they don't even realize they put out there.'"
The next big innovative thing in restaurants
"If our goal is to make sure our customer receives what they want, when they want it, where they want it, we have a long way to go. I think that we are getting there and I think the next stage of innovation is doing all those things."
Speaking the language of technology
"I can't say enough about how easy this team is to work with. I've worked in many different organizations with many different IT and technology teams. Some are easier than others. But I think part of it is because I can speak and straddle the language. I can speak the marketing language and I can speak the technology/IT language — definitely not as well as they can — but enough that I understand and appreciate what they're doing and how that helps."
Ready to use what you've got to work through crises
"The team has been able to pivot so fast. They've been able to go, 'All right, we need to do more curbside. Maybe we can't have our dining rooms open. We need to speed up our drive-through.' There's so many different ways that they've been able to increase efficiency through the operationalization of the experience. I just don't think other restaurants have that ability necessarily."
Being a woman in the industry — and calling out microaggressions
"There was a panel in the restaurant industry probably five or six years ago where a woman on a panel with executive men had to say, 'I need you to stop mansplaining and I need you to stop interrupting me.' And it happens quite frequently. More than it should. I've found that you just have to call it out. You just have to say, 'Hey, that's not OK.' I had a guy once that always referred to me as his girl. And I was like, 'OK, are you my boy?' And he's like, 'No.' And I was like, 'Then don't call me your girl. That's not how this works.' Being able to just call it for what it is. Don't let it hurt you. Just, 'Hey, not OK. Moving on. I know you didn't mean it. Just fix it so we don't deal with it again.'"