Everything is a-changin': Guest expectations, palettes, technology, and ordering channels. The only constant for restaurant chain operators is that the pace of change will only continue to accelerate. And as you juggle to manage multiple third party vendors for crucial services like delivery, online ordering, and  loyalty (to name just a few) your data is only becoming more fragmented and elusive. 
There's a promised land out there—it consists of centralized data that'll help you make revenue-driving business decisions—but it's outside your grasp. In fact, you're probably spending more time and money on technology than ever, while wasting precious resources manually aggregating data between disparate systems!  
The best way to arrive at the promised land of unified and insightful data is through an agile, modern POS that integrates omni-channel services and delivers business insights in one centralized place.
In the "Rise, Fall & Rebirth of POS" we explore how you can better engage guests with a solid data-driven foundation.
Restaurant data is everywhere, but insights are missing
We hear a lot about how data and analytics are reshaping the restaurant industry. Better guest data is all the buzz right now, and here's why: 
1) Unified data will help you get to know your guests better so that you can elevate their experience. 
It will help you spot trends, understand their likes and dislikes and give you individual information so that you can personalize the brand experience for them—turning them into brand advocates and loyal customers.
2) Unified data will give you clear insight into how, when, and where to improve your operations.
Like which limited time offers (LTOs) are working or not working. Top performing stores and why. You won't have to rely solely on gut feeling or observation; the data will provide quantitative information on the efficiency of your operations. 
Data comes from every interaction you have with customers, vendors, your staff, and throughout your operations. It's stored in your IT systems just waiting to be used to your advantage. But the data is useless if you can't access it and leverage it to grow your bottom line and drive more personalized guest interactions.
If the data stored in your various ordering system, menu systems, back of house, and front of house systems isn't communicating through a common core based off one central database, then arriving at meaningful insights will always be an uphill battle. 
The biggest loser in all of this disjointed chaos is your menu, and as a result, the guest. Because your menu isn't centralized, it may look different on different channels. One version might be on UberEats, a different menu version on your web site, another on your online ordering system, and yet another outdated version on Yelp. When a potential guest is researching or trying to order remotely from your establishment, they have no idea which menu is the current menu!
This happened to me over the weekend—my friends and I had made reservations for brunch at an Italian restaurant in Georgetown. We checked the ratings and menu online before going and were looking forward to breakfast near the canal. Once we got there, the restaurant staff told us they discontinued their brunch 6 months ago! I mean I can eat Risotto any time of the day (and still enjoyed it), but I was really looking forward to poached eggs. If the restaurant had a centralized menu and database, the disconnected menus online wouldn't be a problem.
The Five Types of POS Data You Need
There are 5 types of data your POS must capture to help you make informed decisions for your restaurant business:
1. Personal customer data is captured by your POS, loyalty, and online channels. Access to this data from one single source of truth platform will provide you the insights needed to offer personalized experiences that will keep guests coming back for more. Personal data can include:
Guest demographics such as age, income, and gender
Birthdays and anniversaries
Food preferences
Dining frequency
Order history
Average and total check sizes


2. Operations data includes all the data that's being captured and created by your enterprise as you conduct business. Having access to this data on one platform in the modes you need, will allow you the opportunity to identify efficiencies across your restaurant chain. For example, you'll be able to access:
Kitchen operations data including the speed of service, cook times, total orders, late orders, order tracking for in- house and off-premises dining
Peak traffic management and capacity data
Inventory data
Scheduling data to manage your staffing needs
3. Configuration data is captured by your system based on how it is configured. This gives you insights into how your systems are set up and used by your team, allowing you to understand where optimizations can occur.
4. Payment data is central to your restaurant chain and can bring you actionable insights as to the types of payments most frequently used by customers (loyalty, type of credit card, pay-pal etc.). This data allows you to make critical decisions about high-value partnerships and offerings that make sense for your enterprise.
5. Transactional data includes everything associated with sales or returns, including menu items purchased, channel of purchase, taxes, and much more.
A truly modern POS platform will not only be able to create data and store it, but like Qu, it will fuse this data across your enterprise; ensuring you're able to present, transport, and protect your restaurant data from one place, anytime you need it. 
Together, all of this data provides a holistic view of your restaurant chain, enabling you to better control your restaurant's performance. Your operations become more visible to the front of the house, middle of the house (think third-party delivery), and back of the house. Your guests are now getting an exceptional experience because take-out and delivery orders don't interrupt the flow of in-house operations. Also, the data transparency between ordering, production, and brand means your employees remain cool, calm and collected in the most demanding peak hours.
Qu is a modern restaurant chain POS that unifies data
The statistics regarding restaurant failure are staggering. Approximately 60% of restaurants fail within the first year of operation, 80% fail within the first five years.  The truth is that without analytics and data-driven decision-making, you simply cannot compete. 
Qu is pioneering a new way forward for enterprise restaurant chain operators to more easily unify data across ordering, production, and brand functions. With Qu's unified POS software, your data is easily accessed, analyzed, and turned into actionable insights. Data no longer lives in different systems. It's on a single platform, providing a single source of truth. Decisions previously made on "gut instinct" can be made using concrete information improving accuracy, accountability, and transparency.
With data analytics, you gain operational efficiencies as well as the ability to understand your guests' detailed preferences. You can then develop data-driven brand experiences and loyalty programs tailored to the needs and preferences of your guests.

Qu's updated enterprise POS is built with a single core engine, one database, and a layer of sophisticated APIs that unifies all the data. What's more, Qu has a "brain" which we call Enterprise Intelligence. 
The Enterprise Intelligence dashboard allows you to track your sales and operational data in real-time while Qu's Analytics tool allows you to slice and dice operational and customer data to better understand the drivers of business performance. In fact, the system is able to even automatically analyze your data and alert you to actionable decisions in real-time. It empowers you to make revenue decisions where and when they matter most.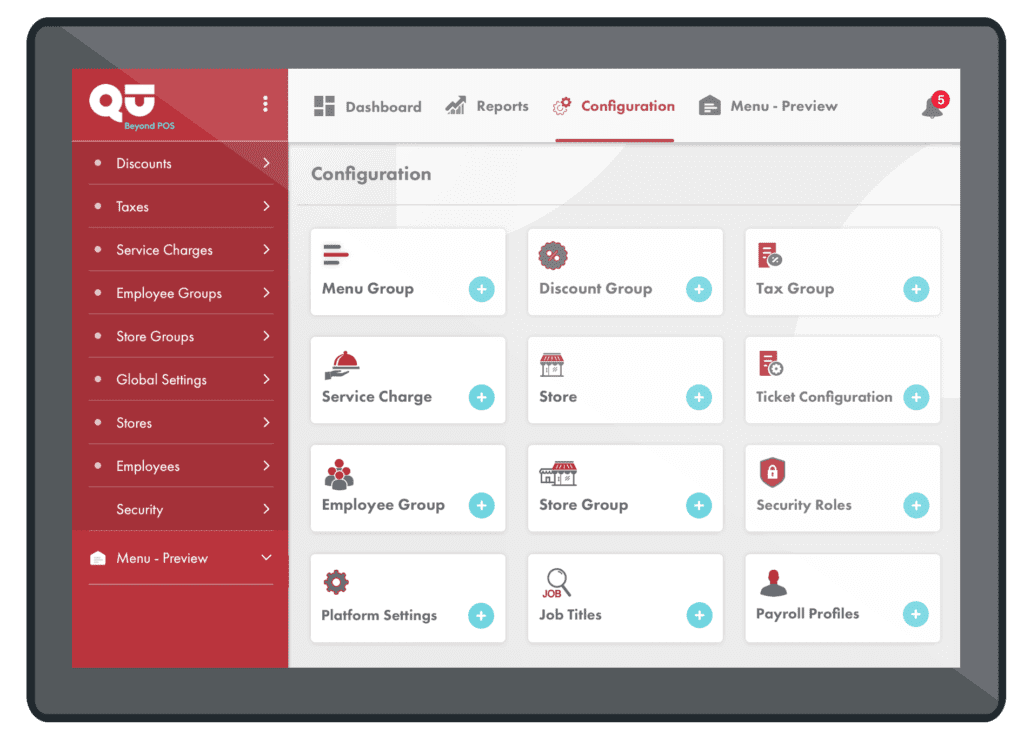 As demonstrated in the image, you're able to glance and view the activities and key performance indicators most vital to meeting your organization's objectives in seconds. The operational dashboard makes important data both easier to use and easier to understand, enabling better focus and alignment, faster decision-making, and performance transparency. 
The transformation isn't easy but the payoff is significant
Higher profits, streamlined operations, and stronger guest satisfaction is only the beginning. Data allows you to be more agile and explore new, disruptive business models to further the evolution and growth of your business.
---
This blog post is part of a 6-part series specifically written for enterprise-level restaurant operators, "6 Things Every Operator Should Know" to position themselves and their businesses for success. Our posts so far include:
Restaurant POS Systems Need One Common Core 
It's All About the Data (you're reading it!)