Qu, a rapidly growing tech company creating omnichannel POS for enterprise restaurants, just announced the launch of its new data-centric platform. The company is pioneering a concept hailed as unified food experiences to solve the fragmented ordering, production, and brand management chaos experienced by restaurateurs.
This is poised to be a game-changer for enterprise restaurant operators.
Qu believes restaurant chains should be able to manage changes, when, where, and how they need—instead of based on arbitrary templates created by vendors. Which is why their new POS platform aims to give operators limitless control of configurations through a revolutionary enterprise management hub. Central to this hub are the industry-first features of Dynamic Stores and Dynamic Items. These features deliver increased levels of flexibility and customization operators desperately need to efficiently manage their business and accelerate revenue generation through data-driven intelligence and reporting.
We're on a mission to end the menu management madness that's causing massive amounts of fragmentation and inefficiency and holding back enterprise operators today. Fast-casual and quick service restaurants have been constrained for too long by POS solutions that fail to offer the flexibility, control, and dynamic features they desperately need to create brand and revenue-boosting guest experiences.
– Amir Hudda, CEO Qu POS
The platform redefines expectations for "next-gen POS" by providing one consistent and open API structure, supported by a centralized core processing engine irrespective of whether the order originated in the store, through the operator's website or third-party delivery services. This data-driven foundation enables operating teams to manage all menu and item changes in one place, customizing them based on context and attributes. 
Qu's enterprise POS now features: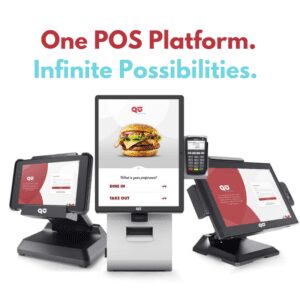 All of these features together deliver a unified food experience.
 With the industry's first connected POS platform backed by a single database and a single set of APIs; consistently processing everything from food ordering and production to brand experience. 
In the fast-moving digital economy, it's undeniable that multi-unit operators will continue to grapple with technology complexity and revenue challenges until they're able to consolidate menu systems onto a data-centric, open API platform with one unified codebase. Qu's agile POS platform was designed specifically to solve the omnichannel chaos. With intelligent menu design, guest personalization, and strategic pricing and promotions in real-time enterprise operators can more confidently improve order accuracy and speed, consistent experiences and ultimately stronger profit margins.