I took my first restaurant job in 1984 and spent a solid 30 years working in, running, and/or consulting within the business ever since. Oh, how things have changed in the 36 years since. Advancements in technology continue to impact how guests engage brands and how brands establish authentic, human connections with their customers.
While tech advancements have significantly changed how and where guests order food, one thing hasn't changed…. guest insistence on receiving the highest and most personalized level of service. Therein, my friends, lies a most difficult challenge to restaurateurs today, furthered even more in the post-COVID service environment. 
The primary motivators driving technology advancements for restaurants include: 
Guest Convenience – Ability to order anywhere, anytime
Meaningful Guest Data – To help operators make better real-time decisions
Increased Per Order Revenue – Operators need to drive higher profit margins to stay afloat
Simplifying the Tech Stack – Due to proliferation of tech and channels, including third-party delivery drama 
Improving digital engagement is clearly the imperative right now for restauranteurs, but how do you balance the use of digital with personalized service and human connections so critical to driving loyalty and repeat business? Before I address that, let's take a look at some of the top performers in each food concept.
In 2019, Newsweek ranked America's best customer service brands with scores based on performance across five key areas: Communication, Technology, Guest Expectations, Guest Focus, Accessibility. 
By category, here are the top scoring brands by segment and restaurant concept:
Fast Food – Chik-fil-A 9.11
Fast Casual – Firehouse Subs 8.75
Pizza – Papa Murphy's 8.63
Coffee – Starbuck's 8.29
Bagels – Bruegger's 8.16
Doughnuts – Kripsy Kreme 8.37
Upscale Dining – Morton's Steakhouse 9.02
Tried & True; Something Old With Something New
I spent some time researching these brands – both based on my own personal experience dining with them and by conducting one-on-one phone interviews with similar brands. Through this research period, it became clear to me that these brands ranked at the top of their class because they do 3 important things really well. And yes, they have also found a way to strike a healthy balance between digital engagement and maintaining an effective level of personal touch and guest connection.
First and foremost, each brand listed focuses not just on technology and customer service but insists on deep roots within the communities in which they reside. It cannot be understated how meaningful it is to guests that brands in their communities actively support their community. For example: 
Firehouse Subs Public Safety Foundation was able to provide a grant to Harris County Emergency Services District 48 Fire Department in Katy, Texas, which was used to purchase rescue boats. The boats arrived weeks before Hurricane Harvey hit the area and were used in the aftermath of the storm. 
Mission BBQ, a brand built on the concept of serving those that serve the communities in which they reside, has already donated more than $1.2M to a variety of national and community based causes in 2020. 
South Block built its brand on giving healthy fruits and veggies to communities in need and created its own non-profit, the Fruitful Planet to fulfill its mission.
Whether you're a 1000+ unit global brand or a 100-unit more regional brand, serving your community will always strengthen your brand and is as effective as any marketing strategy you could ever utilize.
2) Simple and Consistent Ordering Experience
Second, they all provide a guest order experience that is simple, consistent, and predictable with just the right balance of sincere, friendly engagement whether ordering on premises or through a digital channel for pick up. 
Chik-fil-A – If you've ever been to one (and let's be honest, who hasn't?!) you appreciate just how well a high-volume brand provides numerous, clear simple ways to order and get your food. 
Starbucks has invested millions in guest-centric technologies setting the global standard for loyalty and guest experience.
3) Brand & Sensory Experience
Lastly, when the sensory experience on-site built around the food and how guests experience the brand is both delightful and memorable, it inspires guests to come back again and again and again.
Krispy Kreme – From the moment you pull open the door and the intoxicating fragrance of fresh baked donuts engulfs you followed by the eye-popping selections and seeing your donuts artfully prepared, you're transported to a sensory wonderland!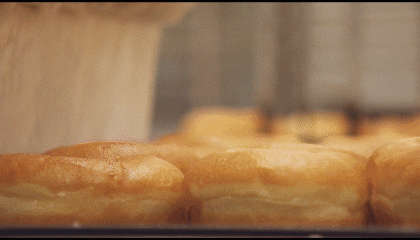 Five Guys' simple idea of providing no charge peanuts creates a multi-sensory experience in each location, up to and including the crunch on the floor from the shells!
Each example above creates or enables memorable experiences for diners and their communities, which should be the goal of every food service brand each time a guest honors you as their choice for a meal. 
5 Ways to Balance Digital Engagement & Customer Service for Your Restaurant Guests
There are many ways your brand can emulate and achieve a healthy balance between digital engagement and personalized service. Here are my top five recommendations for using technology to create more memorable guest experiences:
Use digital technologies to remove the mundane employee activities such as inventory and food cost tracking or employee scheduling; allowing ample time for your staff to engage in more gratifying, guest-centric activities. Happy, fulfilled employees always pay it forward to your guests.
Simplify the food ordering process with consistent and uniform digital ordering channels. The information received by guests' post-order and the personal experience when food is delivered or picked up is vital. You MUST make sure your guests are clear on when, where and how to get their food and with the highest degree of friendliness and respect. A unified ordering system based on single, consistent menu management system is the best place to start. 
Own it when things go wrong — and they will, so own it, excuse free. Use technologies to make it right with the least amount of delay and friction. Just comp'ing a check may feel like the right thing to do for a dissatisfied guest, but the two most important goals are problem resolution and ensuring your guests return. Consider an inventory of "redemption" gift cards as a way to get them back. A complimentary gift card can go a long way. (I always recommend 2x the value of the current flawed order). 
Ensure your digital channels enable guests to leverage personalization and all loyalty options, including the ability to re-order previous orders and favorite items, accommodate allergies & food preferences, and provide real-time menu information. This is done best from a single menu platform from which all your channels and partners can receive and exchange information bidirectionally.
Go the extra mile by thinking outside the box and adding simple touches like upscale to-go packaging, stickers on the bags, special giveaways, and fun branded activities (games) and communications. Encourage feedback through surveys to get more guest data. 
These are indeed unheralded times you're confronted with. It demands the perfect blend of classic guest service and simply executed digital strategies. The time is quickly coming where the use of AI and machine learning will enable you to deeply connect with your guests for a mutually delightful and memorable experience. Brands that leverage these strategies to creatively reach, engage, and service their guests will be in the strongest position to not only endure these challenges, but strengthen their brands, and thrive moving forward. 
What digital technologies are you considering to go the extra mile so your guests always feel welcome and appreciated during these challenging times?