I recently attended the grand opening of the newest Cafe concept by DC Central Kitchen (DCCK). DCCK is a workforce development nonprofit and social enterprise. It's located at THEARC which is a recreational campus in Washington, DC's Ward 8 providing diverse community, cultural, and social service programs. DCCK's new Cafe offers a variety of fresh salads, sandwiches, snacks, and coffees while going beyond food to provide hands-on job training to young adults. The DC Central Kitchen Cafe (DCCKC) couldn't be a better fit for THEARC!
DC Central Kitchen is Committed to Stomping out Hunger
DCCK is a nonprofit and social enterprise committed to stomping out hunger and poverty by "strengthening bodies, empowering minds, and building communities through food." As the nation's first community kitchen, DCCK develops and operates social ventures targeting the cycle of hunger and poverty. They live by their motto to "fight hunger differently" by providing culinary training for unemployed individuals. Then, DCCK hires many of the trainees to help prepare the 3 million meals that the organization provides to homeless shelters, schools, and nonprofits each year.
The New Cafe Concept is a Welcome Addition to the Community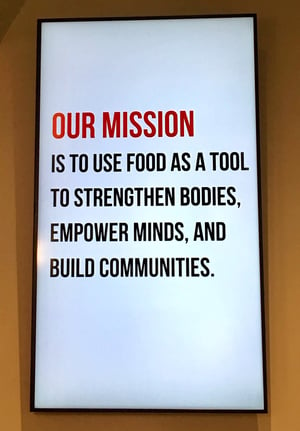 On Saturday, May 11th, I set out (as a new resident of DC) to attend the Grand Opening picnic for the Cafe. I was desperately trying to navigate the confusing and crowded metro, pushing my way through oncoming hordes of commuters when I spotted him—Andre. He came into focus immediately as he was wearing a DCCK shirt. I made my way over to him and excitedly introduced myself—relieved that I had someone to guide me to the event. Andre began to tell me his story. Andre shared with me how he will soon graduate from the Culinary Job Training program at DC Central Kitchen Cafe. He talked about how he comes from a family that didn't have much, and his friends were never motivated enough to follow their dreams. Andre proudly told me how he is fully independent at the age of only 21 and how he plans to own and manage his own restaurant in the near future. He told me passionately about how DCCK provided him the opportunity he needed to jumpstart his dream.
After chatting with him, I was even more excited to see the new Cafe in person.
I later saw Andre in action at the cookout, where he and other DCCK students were serving up a delicious and home-made menu of burgers, hotdogs, beans, coleslaw and more. As I munched on the savory food, I listened to Andre passionately share with other attendees about his experience with DCCK.
It was an inspiring and uplifting experience seeing individuals express newfound pride in their work. I had many insightful conversations with members of Ward 8 who were there to celebrate the opening of the Cafe in their community. Through these conversations, I realized the magnitude of the impact that DCCK could have on the community.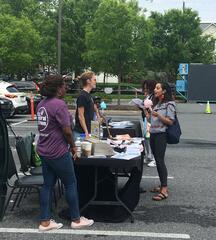 After scarfing down (maybe) too much cotton candy, and mingling with other attendees, we had a tour of THEARC, the Cafe, and the community garden.
Walking peacefully through the garden, I had a moment of reflection and realized the real value of this organization. DCCK is truly a shining example of an organization that is tackling systemic issues in Ward 8 and sustaining its impact as a true contributor to society.
Let me provide you with some context to my epiphany. Ward 8 is a part of the11% of DC that is a food desert—a geographic area where people have limited access to healthy and fresh food. This systemic issue has led to a number of related health, employment, safety, and education issues that have created barriers of access towards a healthy life for many residents (Smith, 2017). THEARC started combating these problems by offering art, music and dance classes, informative sessions, and community events. Next, they built a beautiful community garden where fruit trees and vegetables grow and students can come to learn and maintain it. Finally, the partnership between THEARC with DCCK was the missing piece. It brings the whole center together.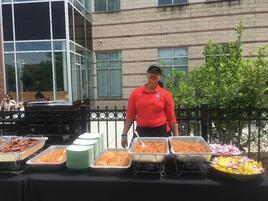 DCCK trains young adults who are derailed from their education and employment tracks and offers them firsthand experience in both front and back of house roles at the cafe. The DC Central Kitchen Cafe offers a relaxing seating area for mothers to exchange stories while they wait for their children to run out of ballet class, students to do homework while they munch on a healthy snack, and families to come together to create a prosperous community. I couldn't be prouder to be a part of a company that plays a role in creating that.
Qu Empowers The DC Central Kitchen Cafe to go Beyond Food
Qu's POS software plays a role in helping DCCK realize its mission. Our modern platform uses gesture-based conversational ordering and intuitive UI that's easy and fast to use. It's quick to deploy and requires minimal, if any, training time. This means DCCK employees can spend more time interacting with customers and less time fussing over how to enter an order.
We sometimes forget that in an industry that speaks about delivering the ideal "guest experience" and providing a "frictionless service," part of our job is creating a community through food, and building an ecosystem that supports meaningful relationships. As I walked away, I couldn't help but think about Qu's tagline: Beyond. Together.
Today we proved that we indeed live by what we say. We partnered with DCCK to help them reach more people with their mission, and extended our vision of "going above and beyond." We can't wait to see where our journey with DC Central Kitchen takes us.