When it comes to your restaurant tech stack, Edge Computing may not be your first concern. But understanding the power this new computing model can have on your restaurant tech stability and future innovation is essential. 
Edge Computing reduces dependency on remote databases (in the cloud) to transmit data faster. When it comes to large, distributed restaurants—there's a massive amount of data flowing between the public cloud and the store. If not efficiently handled, that data can slow down, and even crash, systems.
Cloud Computing vs. Edge Computing
While cloud computing brings tremendous advantages in network speed and reliability—these benefits go out the window if you can't guarantee connectivity. That's where Edge Computing comes into play.
Edge Computing is used to process time-sensitive data, while cloud computing is used to process data that is not (or less) time-sensitive. If there were unlimited bandwidth and guaranteed speed, the cloud would be good enough, but with today's realities of unpredictable latency, outages, and poor speed/bandwidth, Edge Computing offers many advantages over strict cloud computing setups. 
Beyond increased agility, Edge Computing provides a spectrum of benefits to organizations that want to:
Reduce overhead related to maintaining legacy in-store computing systems

Improve speed and decrease latency for orders, transactions, and all network interactions

Maintain business continuity, with highly-reliable, stable order and payments processing

Unlock new levels of value through integrations with Machine Learning and Artificial Intelligence-based systems to drive revenue
Most importantly, it is completely fluid
—
your in-store systems communicate and switch seamlessly between the in-store cloud and the public cloud.
What's the Next Generation of Cloud Computing?
Commerce Cloud, a term coined by Qu's technologists, is the replication of the public cloud at the store level. Those two components (public cloud + local, in-store cloud) provide the foundation for the next generation of cloud computing—and deliver stronger business continuity for restaurants. 
There are three layers of redundancy available in the commerce cloud model, to ensure restaurants stay online, even if network connectivity is lost. 
Each terminal and client is connected to each other, providing an initial layer of redundancy

The in-store cloud communicates with the public cloud

Every client automatically switches to the above-store public cloud if needed
The Goal: Stronger In-Store Stability 
Qu's implementation of Edge Computing brings
a piece of the cloud down to the store
, using a small but powerful in-store device that supports our in-store cloud functionality. This piece of hardware is our instance of E
dge Computing
 and brings the computing power to the data needed to keep things running in the restaurant. This Edge Node client provides a synchronization hub that houses all the data that each client needs to run successfully.
Additionally, all APIs housed in the cloud that are necessary to run a restaurant's technology stack are replicated within the in-store cloud, driving faster order placement, as well as quick transactions and payments processing. These APIs (which support the authentication, configuration, and operational functions) were purpose-built to keep a restaurant up and running, even when network connectivity is interrupted.
Finally, as an event-driven architecture, the in-store cloud captures the timestamps and metadata that are necessary to reconstruct a previous state, as well as the sequence of prior events. We capture this metadata in a blockchain-like ledger that helps a restaurant recover quickly and accurately if network connectivity is lost or interrupted.
Find out more about in-store stability here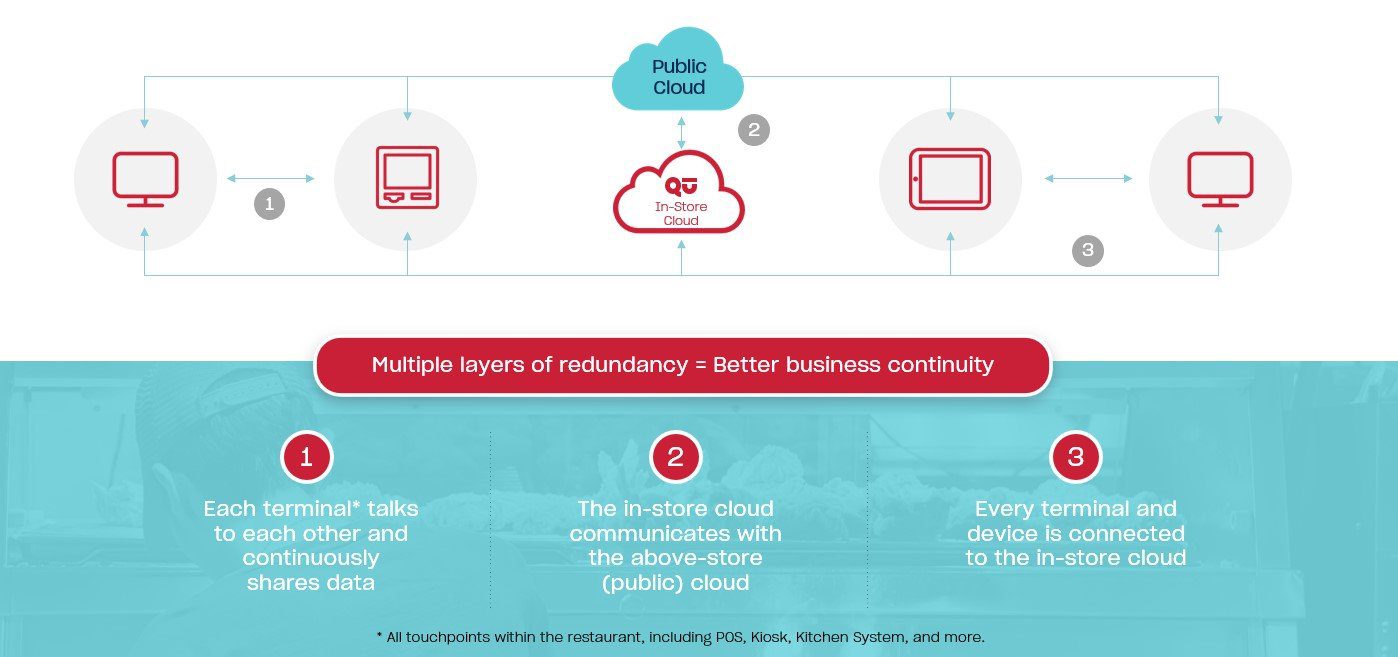 Benefits of Commerce Cloud
With this approach to next-gen, commerce cloud-deployed architecture and network capabilities using Edge Computing, enterprise restaurants can realize tangible benefits like:
Unrivaled daily business continuity, with three layers of failover

Fewer financial losses resulting from inability to take payments

Stronger guest and employee satisfaction, due to enhanced system uptime, speed, and platform stability

A future-proofed, forward-looking technology stack and architecture
Although organizations can only do so much when network connections fail, what brands can do is implement a technology approach that is prepared for interruptions and helps restaurants recover quickly.
The Future of Restaurant Tech Resides With Edge Computing
The future will require restaurant chains to adopt Edge Computing if they want to incorporate more advanced capabilities within their guest experience and tech stacks. These may include:
Voice
Vision
Dynamic Pricing
Dynamic Promotion
Product Optimization
Robotics & IoT
Edge Computing has the power to bring data closer to where decision-making needs to be made.
As the guest—and their diverse ordering patterns and channels—has now displaced the POS as the center of every restaurant's operation, cloud resiliency, network connectivity, and the ability to innovate along with the guest are crucial elements of any enterprise brand's success.