Time for a quick quiz: How many different versions of your menu are floating around online at this very minute? Was your answer a definitive "one?" If not, you've likely got serious menu mayhem on your hands. 
You're not alone. Some fast casual and quick-service restaurant operators today have upwards of 20—yes, 20—versions of their menu circulating online. That's a recipe for disaster in a fiercely competitive market. 
In this post, we'll examine how menu proliferation happens and, more importantly, how you can move beyond the mayhem with a unified restaurant menu management system.  
The origins of menu management mayhem
It's easy to see how we got here. The expansion of digital ordering, with its multiple pick-up and delivery options, has benefited operators and guests greatly. As customers demand more convenience, restaurants have responded with their own branded apps, online ordering options, and third-party service apps—usage of which has jumped 21% in the past year alone. 
Menu management, on the other hand, has taken a big hit.  #MenuRage
Enterprise restaurant POS vendors developed more products to allow for more choice and channels, creating different engines to process in-store versus digital orders. As a result, a typical restaurant chain now struggles with managing multiple different menu systems and APIs for:
Online ordering
Catering
In-store kiosks
In-house deliveries
Third-party delivery sites 
Using multiple systems made changing and updating menus time-consuming and complex. Fragmentation abounded, causing more frustration for operators and disjointed experiences for guests. Your customers expect (and deserve) consistency and excellence across the board, from intuitive menus to food quality. Anything less leaves a bad taste in their mouth, and they'll take their business elsewhere.  
So, what's the alternative? How do you move beyond multiple complex menu systems and management inefficiencies to a more manageable future? 
The answer: by moving beyond fragmented menu systems to a unified POS menu management system.

Unified menu management defined
A unified menu management solution simplifies menu management across your entire operation, whether you have 20 locations or 2,000. You gain a centralized system that improves efficiency and consistency.
Unified menu management also increases flexibility for operators and franchisees, providing limitless freedom to update menus and food items based on several variables, including:
What items are sold 
Where items are sold (in-store and digital channels)
When items are available (think day-parts, hours and seasons)  
Special promotions and discounts
Service charges
Prices and taxes 
Third-party delivery requirements 
How unified menu management works
The best results come from a unified POS menu built on strong digital foundation with a single API structure and one database. Our Qu-1MENU sits atop a single powerful core processing engine. Think of this core as the brains of your entire POS operation. 
Having a singular core allows Qu to move beyond traditional POS approaches, so all changes, updates, orders, and transactions are processed the same way from one point of entry and carried out across all channels, locations, and brands as directed. Gone are the days of manual processes—along with the redundancies, inefficiencies, and mistakes that come with them.
Qu's core eliminates the need for extra layers and levels of data translation just to funnel changes from one menu system to another. Operators finally have the opportunity to truly consolidate their Front of House solutions and deliver a more consistent, cohesive guest experience. 
Even better, Qu's core is replicated both in-store and in the cloud, so all transactions and data are constantly in sync, delivering super resiliency, always-on 24×7 reliability, and continual business operations—regardless of internet or cloud connectivity. Data is more secure since it's not all sitting exclusively on in-store servers.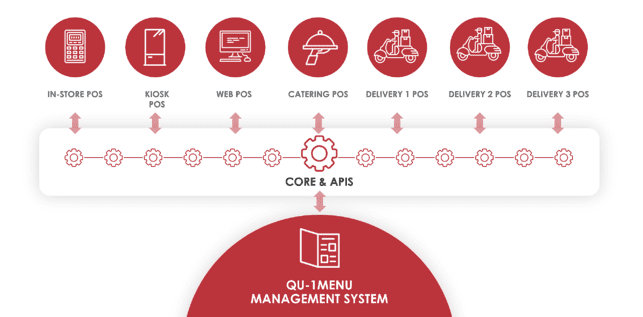 Experience the power of Qu-1MENU
What does Qu-1MENU look like in action? Glad you asked. Let's say autumn is approaching, and you want to update your menu with a few seasonal favorites. Easy enough. But some of your new dishes have lunch and dinner portions, and different sizes mean different prices. On top of that, you also want to experiment with limited-time promotional discounts for your store on the east side of town, where sales have dropped off a bit lately. 
Trying to configure this level of detail using a "traditional" restaurant chain POS system would be a massive and maddening undertaking. With Qu-1MENU, you can easily configure these custom settings and many others from a simple, intuitive interface. 
You have practically infinite modifiers and menu depth at your disposal, with seamless integration across all channels—including third-party delivery partners. Plus, you can establish price tiers and promotions based on criteria ranging from time of day to store location and beyond. 
This is why the power of Qu-1MENU is unmatched for enterprise restaurant operators seeking maximum efficiency and consistency. Instead of wrestling with the mayhem caused by multiple menus and systems, you're now able to:  
Make updates and changes quickly 
Provide unified food experiences and ordering for all guests across all channels
Simplify reporting and tracking within and across your stores 
Easily access analytics on the performance of certain menu items to drive business decisions 
Improve your bottom-line by reducing management costs, accelerating speed to market, and increasing customer satisfaction  
Save considerable time and divert resources to other business priorities 
It's time to regain control of your ordering experience. Move beyond obstacles to new efficiencies with Qu-1MENU—the dynamic, unified POS menu that works for every order-taking channel today and those yet to come. 
We'll be happy to show you all the advantages Qu-1MENU brings to your restaurant chain. Get in touch to schedule your free POS Assessment with a Qu Product Expert. 
Now that you know more about how a unified POS menu solution works, look for our next installment in this series about why it's such a critical tool for enterprise restaurant chains.