I had the opportunity to attend the Restaurant Leadership Conference (RLC) for the first time this year and was privileged to meet many seasoned restaurant leaders. We all know about the challenges facing restaurant leaders today. The difficulty driving revenues with 3rd party delivery providers and shifting guest demands; the lack of holistic technology solutions to fulfill those demands and create loyal brand advocates; labor availability and cost issues; and the list goes on and on.
But the most insightful event happened for me, not at the RLC conference itself, but in the airport on my way home. This incident underscores the difficult predicament (aka, "awful big mess") that owners, operators, and franchisees find themselves in because technology has not been effectively harnessed in the Fast Casual and QSR industries.
Part 1: The Expectant, Excited Guest
So here's how it went down:
It was my typical busy travel morning. I was running late, rushing to get to the airport on time and had no time to eat. I was hoping to arrive with enough time to grab a beverage or quick meal before my flight.
I got through the security line quickly and it was looking like I might have time for some libations. I was hopeful, at least.
Then I rounded the corner to my gate and saw it. My absolute, hands-down, FAVORITE coffee spot. My excitement rose exponentially. It was a welcome sight for sore eyes after a few long days and nights.
On top of being my favorite coffee brand, I'm obsessed with their latest creation: the ginger turmeric latte. And I love their quinoa egg quiche. It was Peet's Coffee and Tea.
Important Sidenote:  I've been a loyal customer of Peet's for over 15 years, as has my husband. I stuck with them through the acquisition of Caribou. I frequent their stores often and use my PeetNik app to collect rewards and make purchases.
I looked at my boarding time, the long line, and weighed my decision carefully… I was risking being late to the gate but it was a risk I was willing to take for Peet's. I jumped in line, made it quickly to the front where I was greeted by a lovely man, placed my order (turmeric, ginger, coconut milk…. I'm so healthy), grabbed a granola bar, and pulled out my app. And then it happened.
"We don't take the app here."
WHAT? "I'm at Peet's and you don't accept the Peets app?" I say.
"No, sorry, ma'am. That's corporate. We're locally owned."
Boom. My excitement came crashing down. Denied by my own favorite brand!
"I can give you 10% off though," he says.
"Okay." I settle for that.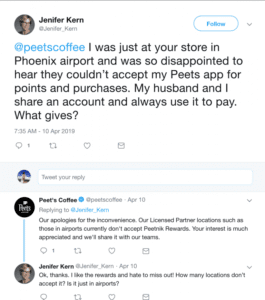 Part 2: The Disappointed Guest
And that was the extent of Peet's loyalty program and the inability of the POS to connect to the guest. Because I was at a franchise location, the brand did not deliver on my expectations and build me into a more loyal guest.
It highlighted the enormous disconnect between corporate brands and franchisees. And the failure of the brand to form an even stronger guest-brand ambassador bond. But instead, resulted in a disappointed guest.
But who's failing who here? Who's really to blame? Is it the gaggle of technology vendors who haven't created an open, cross-channel solution that effectively connects both corporate and franchisees? Or is it the owners/operators inability to come together and work with the franchisees to put the guest first – to truly make them NUMBER ONE.
The most pervasive words across all the marketing materials, at every vendor booth, and in most conference sessions at RLC were:
Frictionless Guest Experiences  (and "frictionless" everything, really)
Integrated, Seamless Implementations and Experiences
Holistic 360 Views of the Customer
Incremental Visits and Profits ("incrementality" is the favorite buzz word)
I did not experience any of these words or sentiments on my Peet's visit and the reality is that these things are still outside the owner, operator and franchisee's grasp. In fact, most guest experiences in fast casual and QSR chains are NOT seamless, integrated, and brand-ambassador building. The guest experience is seriously lacking.
Part 3: Building a Future for More Engaged Guests
Restaurant leaders know that this needs to change, and fast. Competition is fierce. Brands are losing "guest share of market" because they aren't effectively harnessing and deploying technology in a way that empowers and satisfies, invigorates and strengthens the guest experience. And we need to do it together.
Brands need to push technology vendors to do better. To have more open APIs and more (yes) deeply integrated and seamless solutions. To work together to solve the complexities in the market. And to place better guest-brand experiences as the number one priority.
Technology vendors have to be honest about what they can and can't do. There must be a shared vision for a new, stronger services model that will flex to support more complex and shifting demands coming down the pike. Soon, aggregators will be the norm.
Who is going to rise to the top and seize the reigns? Truly delight the guests with a real 360 experience that's awesome and flawless—from the in-store and in-person interaction, to the online and digital experience (inclusive of loyalty and delivery), to the most important piece of all … exuberant guests and the creation of brand ambassadors.
I drank my turmeric ginger latte. But not with the same gusto and satisfaction I would have if my app worked and I could have racked up points and used my husbands funds. Instead, I wrote this little ditty on the airplane.