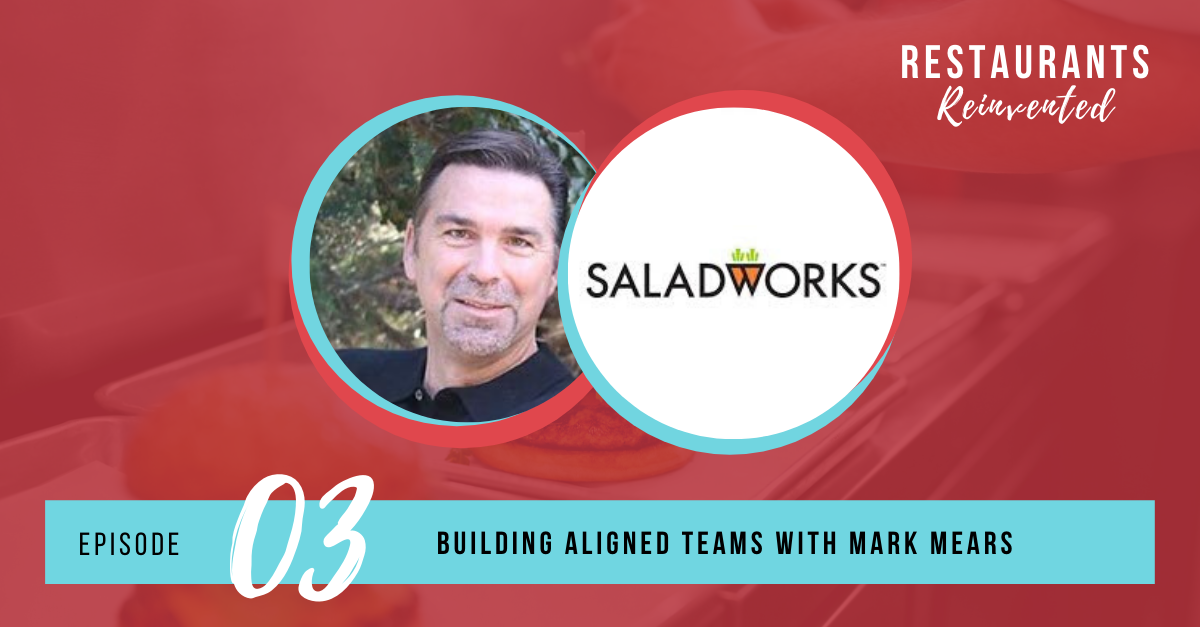 Creating Aligned Teams and Brands with Mark Mears of Saladworks
Use the player above to listen to this Podcast.
Mark Mears, CMO
Saladworks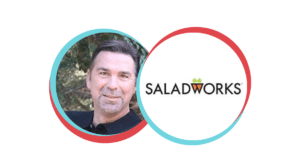 Episode Highlights
Mark describes his career in the industry as a "growth journey" – including mistakes and learning moments along the way.

He talks about his voracious appetite for learning and growth and how that's been a big part of his career.
Jen asks Mark about balancing a focus on growth with everything else going on in the world and he mentions how it's crucial to have alignment at all levels of the organization.
Even during a pandemic, Mark talks about how it's important to stay true to your brand.
Mark talks about a community-driven initiative initiated by Saladworks called Fives for Lives. The charitable campaign allows guests to have the option to contribute $5 through their local Saladworks on behalf of healthcare workers who are on the front lines of the pandemic. 
At the time of the podcast, Saladworks had distributed over 2,000 meals through the Fives for Lives campaign.

Mark talked about how the company

got all the loans they could get. But they have leveraged earned and owned assets to grow during this time because paid media doesn't exist (franchisees got a break on the royalties).

The Saladworks' brand focuses on being original and how originality is more important now than ever.

Originality is a part of not only Saladworks, but all parts of the organization including guests, stakeholders, investors, partners and the community.

In September, Saladworks is going to launch a very aggressive campaign with No Kid Hungry.
Mark discusses the "WOW" moment that is crucial to the success of Saladworks. 

The company's mission is to strive to be original in everything and deliver wow moments everywhere Saladworks is enjoyed. 

He says the Saladworks rewards program has been a "godsend" during the pandemic as it caters to the most loyal customers of the company.
Mark breaks down a campaign built around "National Salad Month" in May of 2020.

Mark discusses the challenge of managing all types of channels – catering, online orders, third party deliveries. 

During the discussion, Mark talks about the advantages of Saladworks and how the menu items "travel well" for delivery orders.

In the next few months, Saladworks is launching a menu upgrade to their signature salads. 
Mark highlights an internal program sponsored by Saladworks called "vow to wow" and it pinpoints the key standards that makes the overall guest experience great.

Mark talks about the key things younger generations are interested in: 1) Personalization, 2) Customization, 3) Self-expression and 4) Connection, and how Saladworks meets those.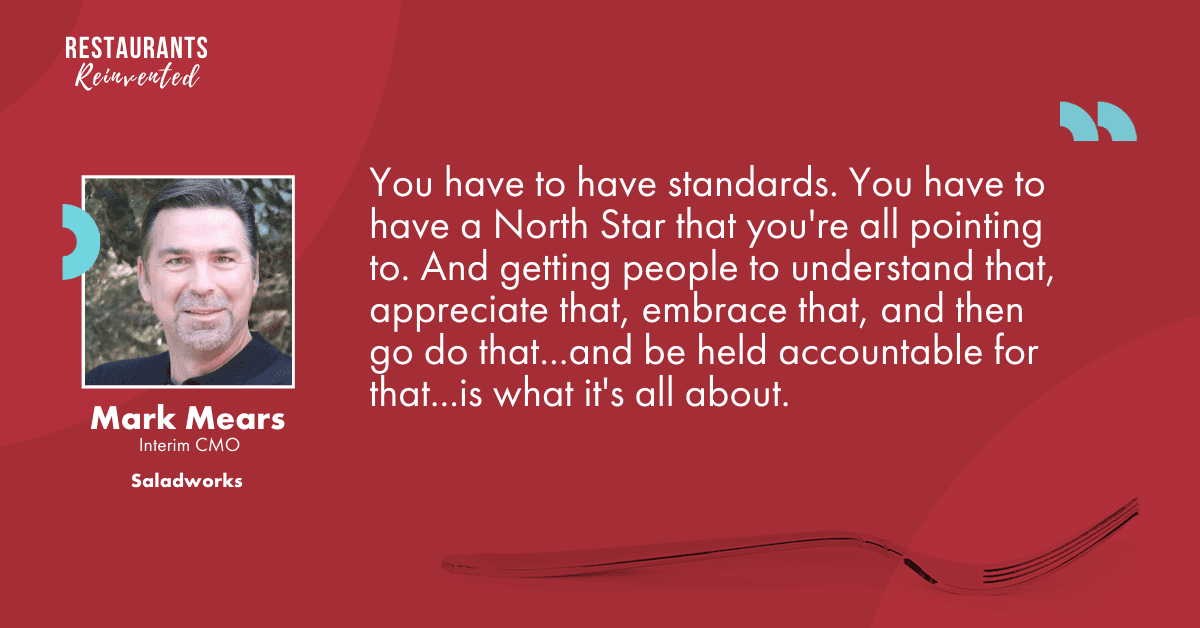 Quotables
Mark discussed the importance of being relevant to guests by mentioning "…being relevant makes us as marketers work harder to really ensure that we have our finger on the pulse of our target and really anticipate their needs, wants and desires in a way that's relevant for their life stage or their lifestyle."
Mark talked about alignment which starts at the highest levels of the organization, "…you have to have standards, you have to have a North Star that you're all pointing to. And getting people to understand that, appreciate that, embrace that, and then go do that…and be held accountable for that is what it's all about. And that's what leadership's all about." 
Mark mentions that during a pandemic, " it's easy to crawl under your desk and close your eyes and wish it away. True leadership is hitting it head on and coming up with a plan."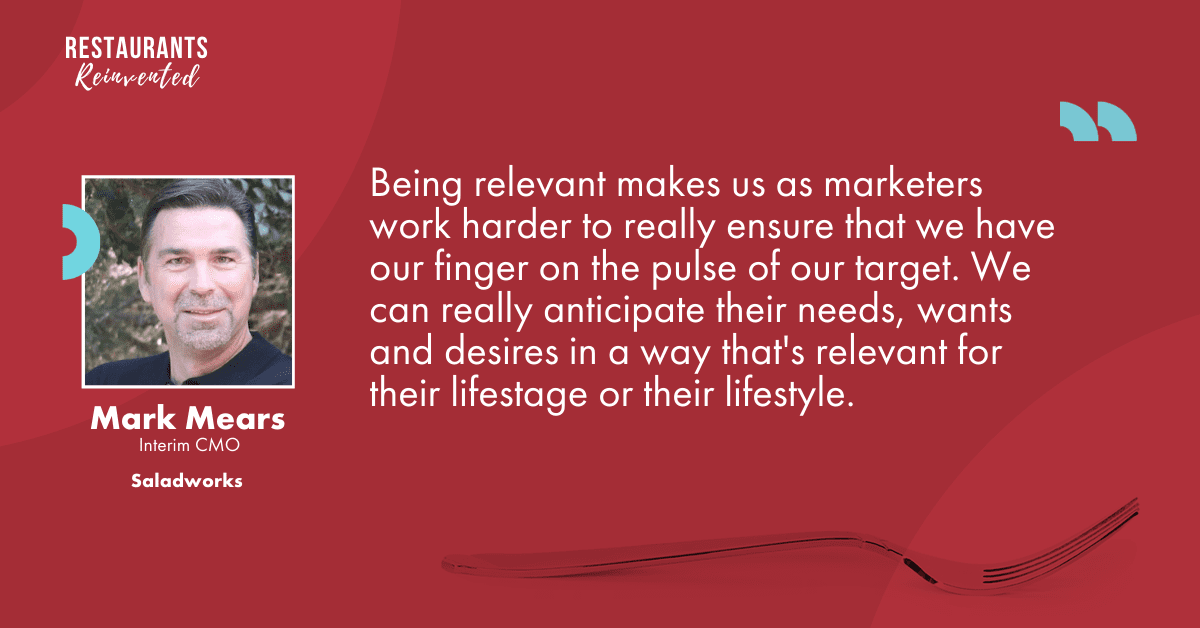 JOIN THE NEWSLETTER
Sign-up for our newsletter and get notified of new episodes, insider news, and more.
GET ON THE SHOW
Are you interested in being our next guest, or know someone who is? Contact us and let us know.