THIRD-PARTY DELIVERY ORDERING
Say goodbye to tablet hell and hello to revenue heaven by automating all your delivery orders through a centralized, data-first system that surfaces one consistent menu.
By consolidating your ordering flow into one system, complexity and mistakes become thing of the past. Now you can focus on serving your delicious food to guests and converting them to first party.
Direct integrations with major delivery partners

One system to manage all menus and prices

Contextual management for items, hours, and day parts
Rapid validation and updating of partner menus
Native delivery integrations increase sales by 25%
Say farewell to in-store tablet farms, with a consolidated third-party ordering solution. 
Swift, error-free order processing with Qu's unified platform.
Surface real-time data & insights
Unified menu creation and data normalization gives you access to the most complete data set
Increase in third-party orders

As we examined every aspect of technology at our locations, we knew that we needed to have a uniform option to benefit both our franchisees and guests.
Features Customers Rave About:
Consolidated single menu management
Automated order acceptance and validation in POS

Ability to convert guests from third to first-party 

Direct POS and KDS integration & flow

Dynamic menu items and pricing 
Service fee reporting for delivery partners
How to Start Loving Third-Party Delivery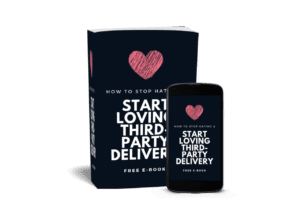 Top 10 Components of a
Unified Commerce
Platform