March 2021 was a
watershed moment
for the hospitality industry. As COVID-19 gained momentum, eating out changed dramatically, as dining rooms across every restaurant segment were closed to guests.
Since then, the industry has
largely
recovered
, though there are clearly other issues in terms of supply chain and labor. While every brand was hit by the effects of the pandemic, enterprise brands that were able to shift to a
digital-first approach
reduced those impacts—and recovered quickly, as seen in our data and recent
Growth Infographic.
It's been quite a year for Qu too. Our modern, omni-channel ordering platform experienced a
5x increase in gross merchandise value
(GMV) processed since the onset of the pandemic — underscoring the fact that technology has played a pivotal role in the recovery.
Check out the interesting data points below to see how things have changed over the last year and a half.
2020 – 2021: Year-over-Year Growth
To put it simply, Qu had a great year. In addition to a
strong restaurant resurgence
, new customer acquisitions and a large increase in our live store install base drove substantial increases in transaction totals, volume, and movement in our t
otal platform sales
. Keep reading to hear about the journey we took from the onset of the pandemic to this summer!

Things weren't always so rosy, though. The initial impacts of the pandemic caused a 50% overall drop in total order volume, driven primarily by a 68% decrease in-store ordering. However, drive-thru and third-party ordering saw increases.
Three Months On: Stabilization
June saw an almost full recovery when the decline of sales shrunk from 50% to just 1% in June. 26% of stores remained closed in this timeframe; however, third-party, online ordering, and drive-thru picked up quite a bit.

Sales Growth by Order Channel
By June 2021, growth in total order volume
processed by Qu reached 207%
, driven by store re-openings, new customers and stores added to our platform, and guests going back to restaurants in full force. Drive-thru has quite obviously become a
key revenue source and order channel
for Fast Casual and Quick Service Restaurants.
A Shift in Channel Preference
From July 2020 to June 2021,
customer tastes shifted towards off-premise and digital,
further complicating restaurant operations and technology stack management. While in-store still represents the highest proportion of total sales, it registered a 10% decrease in volume on Qu's platform, whereas
drive-thru
witnessed a nearly
15% increase.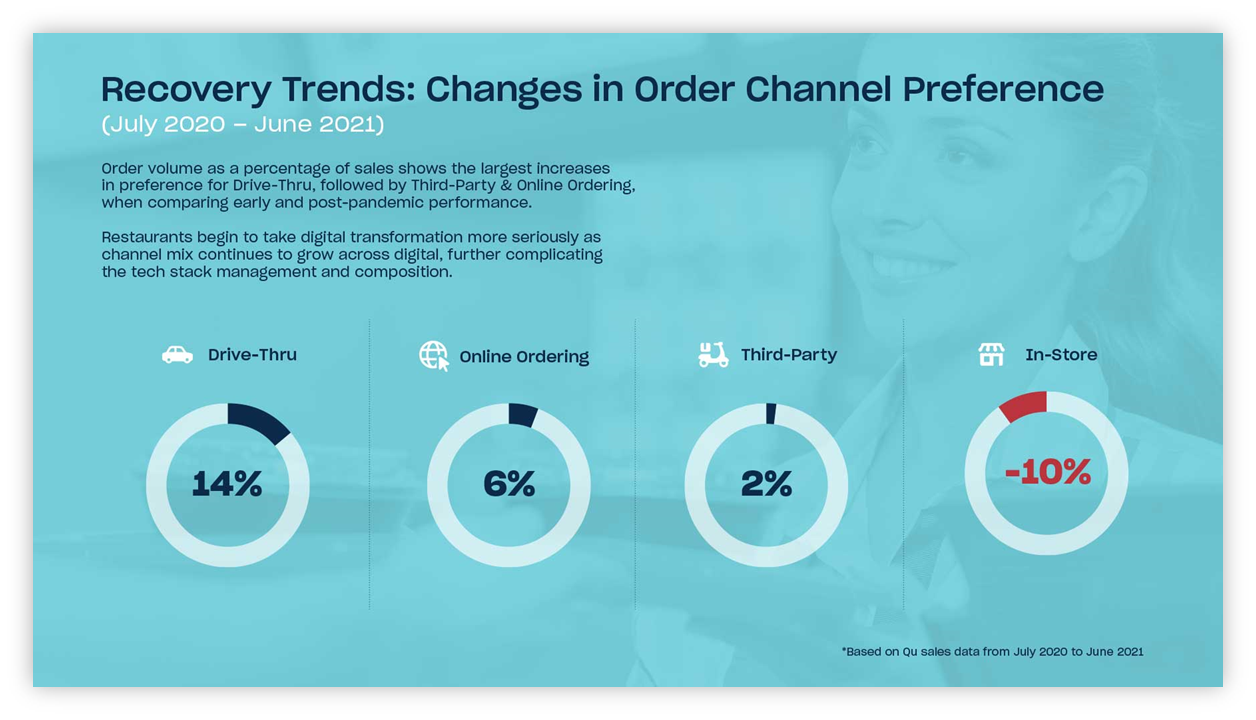 Qu's Channel Mix: Share of Total Sales
While in-store remains the most popular channel, it's not as popular as it used to be. Nearly half of all orders are now placed through the drive-thru, online ordering, and through third-party applications—and the
trend towards off-premise
is likely to continue into the future.
Chicken is now America's most consumed meat, and that restaurant segment has also seen a meteoric rise in popularity. It's now
Qu's top-performing category
, followed by Soups & Salads, then Mexican/Mexican-inspired cuisine.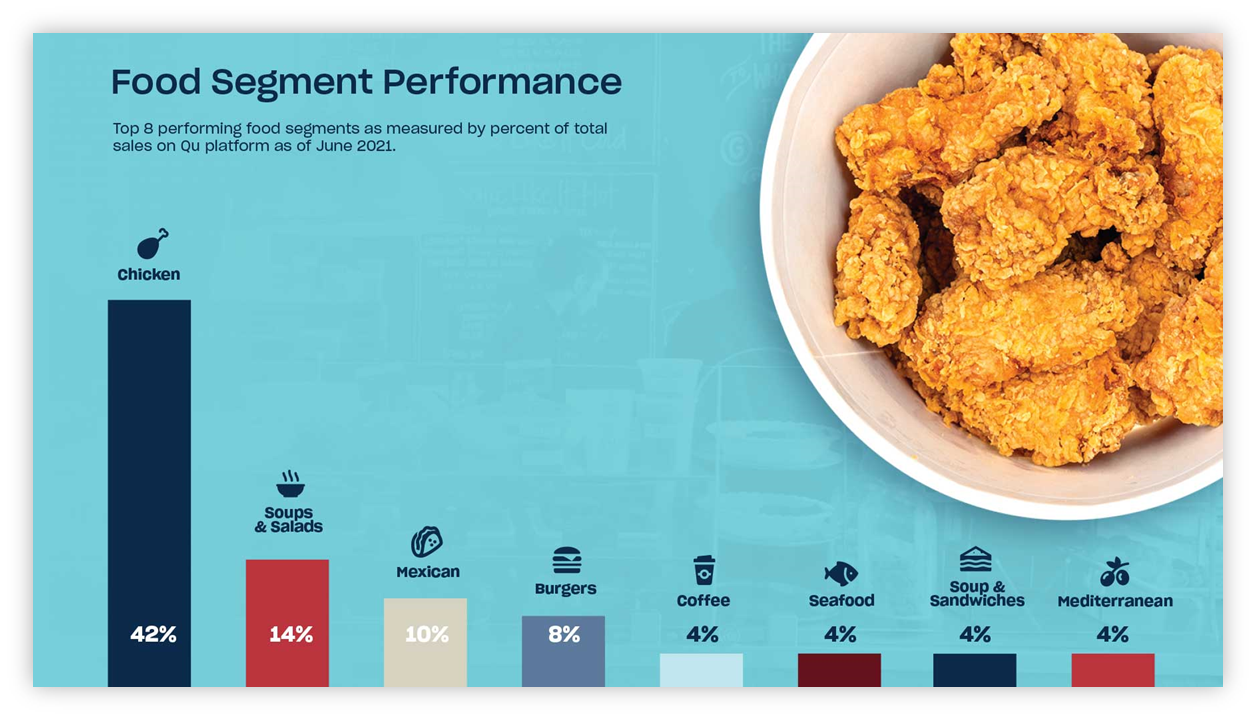 Confronting Uncertainty with Technology
Although many enterprise brands have largely recovered from the effects of the pandemic,
uncertainty is
—and will continue to be—
a challenge
that restaurants will have to confront. From pricing volatility to labor shortages, the success of modern, agile restaurants amidst uncertainty demonstrates that
swift, successful responses
are often underpinned by a
solid technological foundation
.