Fast food was the first entry on Alan Magee's resume: he flipped burgers at McDonald's as a teenager and since then has spent the bulk of his career in the hospitality industry. 
Today Alan is Vice President of Digital Marketing and Technology at Church's Chicken. He's also worked for Arby's, InterContinental Hotels Group and Moe's Southwest Grills, among others. 
Alan uses a combination of storytelling and data to drive digital marketing— and believes getting to data-driven marketing versus channel-driven marketing is one of the space's biggest opportunities. And "people are the most important part of that equation," says Alan.
In his recent episode of Restaurants Reinvented, Alan explains why one-to-one marketing is his ultimate goal, how data quality trumps quantity, and why technology is useless if you don't have the right people behind it.
4 Ways to Use Data to Better Connect with Your Guest
1) Take Small Steps Toward Personalized Experiences
Marketing based on personal information has become not just welcome but 
expected
. "I like to say that people don't dislike advertising: they just want it more personalized," Alan says. Personalization creates customers who are more loyal to the brand, more willing to keep spending with you, and more likely to become 
evangelists
.Alan's formula for personalized ads starts with the magic number. 
"If you can get to three levels of personalization, that's where you turn the corner
with a guest," he says.
 Putting out increasingly personalized ads is a process but the first stages are simpler than you think:
Your first step can be using the customer's name in an email
Second, reference their go-to meal or favorite menu item
Take it up a level and use their provided data to reach the Holy Grail: one-to-one marketing.
"If you normally come in every Thursday for lunch and we're launching a new product, I don't want to send you an email on Monday. I want to send you an email and do an app push on Wednesday, and then SMS on Thursday, to make sure that you're going to make that visit," Alan explains. "That's where the nuance goes from the segmentation to more personalized, one-to-one marketing."

2) Choose Solid, Real-Time Data Over More Data Later
The trap many digital marketers fall into with data is taking quantity over quality data. And this often leaves you "data rich and insight poor," says Alan.
"There are a lot of big companies that are data rich — they have more data than you could ever spend time with — but there are zero insights and you're still going off your gut," he says. "I'd rather have truthful, real-time data, even if it's for only 40% of our customers or our channels: at least I know that it's something I can take immediate action on."
One crucial part of getting usable data is making sure your channels all report into a single infrastructure — or at least, as few as possible. When Alan was building the foundations of his digital marketing approach for Church's, he focused on products that could contribute to the big picture.
 "Every partner I bring in must be able to plug and play with at least two other partners in the stack, or else it's not worth me having a conversation with you," he says. "That way you can pull the data that's coming from those channels."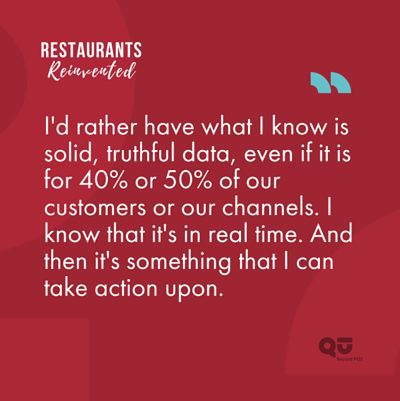 3) Put Smart Digital People in the Driver's Seat to Optimize the Technology 
Technology in digital marketing is like a chisel: it's only useful when it's in skilled hands. 
"There's this belief out there that technology is supposed to make it easy, but you really need smart digital folks who want to constantly evolve, test and learn and that have the right mindset to make the technology work as hard as it can," Alan says. "Technology is only great in the hands of the right people." 
Alan also is careful to consider whether different technology products make sense for the other teams he works with. "Maybe I'm geeked out about the marketing piece, but if we want to add something into the stack, I need to figure out how it also solves for things on the operations side as well," he says.
Introducing technology without considering what it means for operations can backfire on marketing. For example, apps that have made ordering ahead easier for customers can give kitchen staff advance warning that they're about to run out of chicken. But they also set high expectations.
"Consumers have a higher expectation that when they walk in, it's all going to be waiting there on the counter for them. It's a major challenge: it can be a huge pleaser or a huge dissatisfier," Alan says.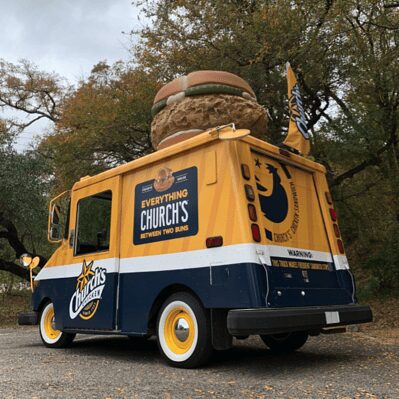 4) Use Storytelling vs. Jargon When Working with Other Teams
No digital marketing team is an island. Working with other teams at your company is essential for making sure your big bold plans are successful, Alan says. 
At Church's, the other sides of digital marketing's "triangle" are IT and operations. IT helps with data collection/analysis and connecting to the point of sale, while operations helps bring marketing campaigns to life.
Convincing people in these other teams to buy into digital marketing concepts is integral to keeping symbiotic relationships working. 
"It all comes down to storytelling," Alan says. That usually means taking out the marketing jargon and explaining in plain terms what the business impact can be, how it can be tracked and reported, and what marketing needs for you to help accomplish the goals.