Enterprise operators need better options, and better technology partners, to move beyond the limitations of legacy POS.They need a solution that brings consistency to ordering, food production, and brand engagement. And a more confident way forward. First generation cloud POS solutions have failed to deliver a truly integrated omni-channel experience to QSR and Fast Casual operators.
Instead of simplifying channel, menu, and technology chaos, the last wave of POS "solutions" added more load and complexity onto an already fragile tech stack. More APIs and systems led to more inefficient business processes and risks. 
It's time to evolve past the complexities created by first-gen cloud and legacy POS providers into the new era of the digital savvy-guest. A modern POS is critical. Today you need a virtual and hyper-connected restaurant ecosystem to meet guest expectations consistently, whether on- or off-premises. 
The current state of Enterprise POS led brands to:
Create multiple menus across channels, harming brand integrity and the guest experience
Have limited flexibility and choice for hardware, credit card processing, and pricing models
Implement manual workarounds for delivery channels
Forfeit in-store stability for cloud accessibility
Over-rely on WiFi and expensive network investments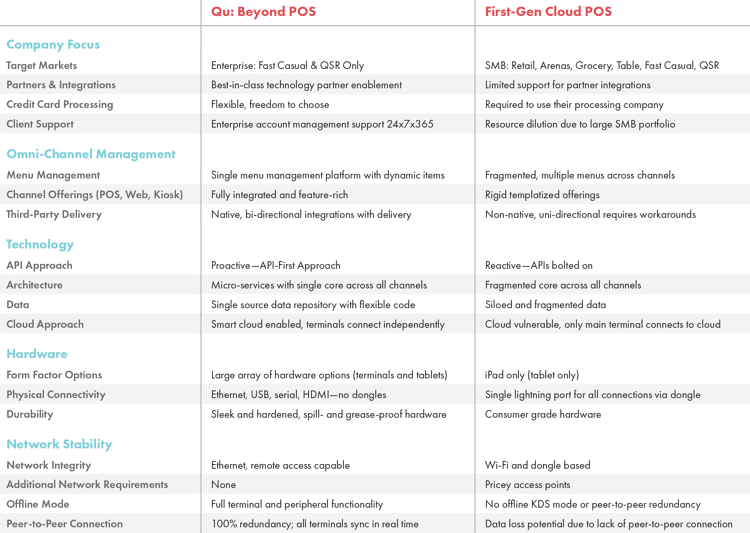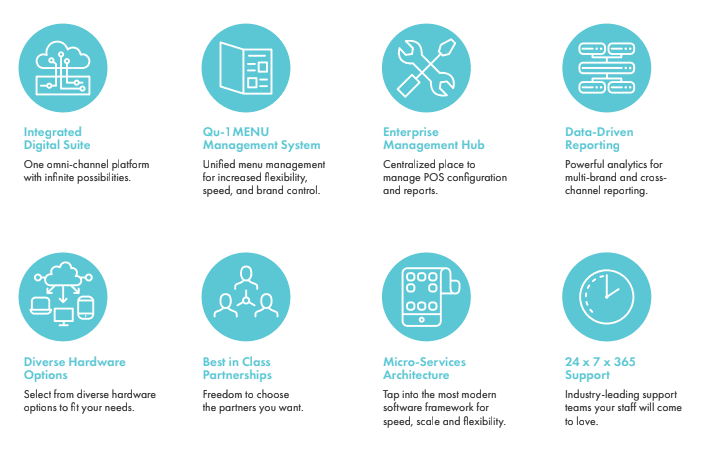 Qu is transforming restaurant POS beyond its current fragmented state by delivering native technology solutions for all in-store and digital order channels. Powered by common APIs and a single core data engine, Qu frees enterprise operators to choose between best-in-class offerings, enabling the first unified food experience that works at the critical intersections of ordering, production and brand.
Our industry-first architecture for dynamic menu items and dynamic stores finally addresses the menu management mayhem faced by fast casual and quick service restaurant chains. And our data-driven guest experiences help operators unlock new revenue opportunities that drive healthier bottom lines.
Based in Bethesda, MD, Qu is backed by leading restaurant entrepreneurs as well as Silicon Valley investors that have also backed Google, Salesforce, Uber, and Dropbox.