In this episode of Restaurants Reinvented, Jen Kern interviews Andy about his beginnings in the industry, how his team is adapting and helping others during the pandemic and his tips for how to be a successful restaurant marketer in today's climate — all from the eyes of executive leadership. He knows how to work his way up the ladder. He started as a restaurant dishwasher before graduating from the University of Miami and getting an HR job at Burger King. Now, he's President of &pizza, a rising pizza restaurant chain known for investing in both its employees and the local community. Andy also addresses the importance of personalized marketing and shares how his team uses text to better connect with customers. For instance, using data from &pizza's native ordering platform, Andy's team can more specifically address customer issues for a more personalized customer service experience.
What he does: As the President of &pizza, Andy uses his background in HR, Operations, and Marketing to manage the day-to-day of this iconic DC-based pizza company from a place of compassion, adapting to the current restaurant climate and connecting with customers in a more digital and personal way.
Key Quote: "In this moment, investing in your people is probably the most important investment you will make for the long term. For those of you that have the position, the ability and the financing to do so, there is no investment that yields greater return than what goes into your team, and we've seen that pay dividends for us."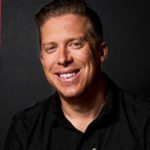 🌶️ Lead with your heart, not just your head.
Remember that restaurant employees are essential workers during the pandemic, and they (and others showing up in-person for work) deserve any sort of discount you can give. Helping others builds respect for your brand and fosters a sense of community — and it's just the right thing to do.
🌶️ Take the time to get to know your customers.
Whether it's using technology that notices customers' dietary preferences and restrictions or simply offering discounts for sports fans, your customers will keep coming back if you treat them as individuals.
🌶️ If your technology does not reduce friction, it won't be successful.
Especially in the era of COVID-19, restaurants rely heavily on their websites, apps and other digital channels. To find success with these, you must anticipate possible user issues and prioritize fixing them.
Successful brands are led by those who foster community
"When you look out at the marketplace, real winners for the long term have a brand that transcends a season. That transcends a product offering. And I think I learned a lot of that doing HR early on. … If you want to keep employees engaged, the offering has to transcend the stuff that's obvious. It has to be more than just benefits and pay. It has to be about a sense of community, a sense of belonging, a sense of purpose."
Restaurants during (and after) the pandemic need to relinquish some control
"Think about the sort of innovations of the past, and giving the consumer a little bit more control and a little bit more participation in the process. It's a good way of thinking about: How do I replicate that collaboration that exists face to face in the shop? … How do you give the customer the same level of control and involvement at home?"
Customers respond better to a personalized experience
"We can send you a message about our gluten-free recipe and what's in it, what's not, what flours we use, how you might be able to make it at home yourself. And I think that also increases the trust and the personalization, because we know you. We know what you like, and we're not going to talk to you about something that you don't like. … That personalization allows for trust, for efficiency and, most importantly, a sense of belonging."
Technology must reduce friction for both the guest and employee experiences
"The breakdown comes when you're asking something unreasonable of either party in that transaction, and then you end up with the execution risk outweighing your best-laid plans. So in our case, the text messaging first is a reduced friction environment for the shop. Somebody is not answering a phone, taking a phone order, so you're eliminating order accuracy issues there. … You have to have everything schematically designed in a way that makes it efficient, so we've spent a lot of time tweaking."
Keep a finger on the pulse of what's happening in your restaurants
"The best thing that great marketers can do right now is really understand what's going on on the front line. … I'm an operator first, but I think great brands need great execution in order to fully realize the work that's put into the brand. And so this is a good time in history to look at those relationships and try to build empathetic partnerships with your operators."