Meet the fearless female leader behind the smokin' barbecue pit at Dickey's –
After joining Dickey's during the 2008 recession, to CIO and then CEO, Laura Rae Dickey shares how the technology infrastructure they built 10 years ago served to fortify the brand during the 2020 pandemic. The evidence is clear – they've had 11 straight months of sales growth and continue opening new locations every month.
Now celebrating their 80th anniversary, Laura and Jen dish on all things restaurants reinvented: from new menu items and 
virtual brands
 to new partnerships and marketing strategies PLUS (Bonus Content on perspectives about Female Leadership in a very traditional industry. You won't want to miss Laura's advice and both ladies' book recommendations!
Name:
Laura Rea Dickey
️ 
What she does: 
Laura Rea Dickey is the president and CEO of Dickey's Barbecue Pit.
️ 
Company: 
Dickey's Barbecue Pit
️ 
Key quote: 
"I've gotten to the table because I never worried about who was sitting beside me. It was always about making sure I did the very best I could, was kind to everybody, made sure I worked to be in good standing, and deserved to be at the table, but not to worry about who was sitting beside me, that there weren't other women."
️ 
Where to find Laura: 
You can find Laura on 
Twitter
 and 
Dickey's official website
.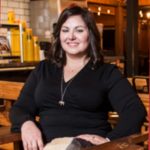 🌶️ Listening to the guest is the most valuable thing you can do.
Laura claims listening to the guest is more than vital because they tell you what they want and what they need. Brands should give guests what they're asking for.
🌶️ We began to use data to drive decisions, the guest experience, and move things forward.
Laura focuses on implementing a 
data and tech infrastructure
 in the restaurant business to enhance every part of it. She takes her brand as an example. "We had the fundamentals. We've grown organically as a brand. The profitability fundamentals were there, the recipes, all of that, but we didn't have the data. We were behind candidly best-in-class in so many areas, but not there."
🌶️ What is the role of a female leader in the restaurant space?
Laura tackles one of today's burning questions, which is the position of a female leader in MarTech and other male-dominated industries, including restaurant space. She has been the only woman at the executive table before in conferences and has also been the only woman at tech conferences. Laura's fortunate to be involved with two CEO groups that get together every year for restaurant CEOs.
Dickey's celebrated its 80th anniversary this year! Not to mention, Dickey's has grown from 11 locations in 2008 to 500+ in 2021 under Laura's leadership/ The original location is the longest-running restaurant in Dallas. Laura jokes they're "the most nimble senior citizen that (she knows) as a brand." They're entering their 11th month of store positive sales growth and sales are up 14% over last year.
Starting in June of last year, they opened restaurants every month, even during the pandemic. There's been huge growth and demand. Dickey's is also expanding internationally. They opened virtually in Singapore 
ghost kitchens
 and plan to add brick and mortar locations there as well as in Australia and Brazil this year.
Technology and Data – A Winning Combination for Restaurants in the Pandemic-Driven Times
It's all about being in the right place at the right time! Because of the delivery and the technology infrastructure, Dickey's was able to deliver what folks wanted when they wanted it. 
And because they were already set up, they were one of the first to do 
contactless delivery
 because we had the tech in place — this is what folks want.
Female Executives in Male-Dominated Fields: Challenges & Opinions
Laura & Jen geek out on their favorite leadership books and share experiences and advice for leading today. It's important to support and celebrate women. It has nothing to do with not recognizing the wonderful achievements of men in the industry, but anything you can do to encourage, be positive, make a difference, connect with somebody. Or maybe there's a younger woman that is deciding where her career goes, what she's thinking about studying, where she's thinking about interning, or where she might see her career going someday.
People Love Variety. And We Are Giving It to Them
For example, spicy is still a huge trend. People also want new products. Dickey's was able to add four new sources to the mix and update their promotions to keep up with trends. A lot of the strategy involved 
winning guests and keeping them
. But now they want more. They might love their pulled pork sandwich, or they might love their ribs or their brisket plate, but now they want some variety.
 Folks have what they love, but they want a little bit of difference in creativity.
The Importance of Cross-Brand Promotional Partnerships
"We focus on cross-brand promotional partnerships and finding brands people also love in the same way." People love Dickey's at Tillamook cheese, Dr. Pepper, and the sauce to King's Hawaiian, a great brisket walk and taco to end the year that has on the great Frito-Lay chips. And it's pretty fantastic with brisket chili on it. That's a fun partnership.
They also played with their iconic big yellow cup. They introduced six different colors If you have been to Dickey's or are a fan of the brand, you likely have cups all over your office, car, and cabinet. It's been a big piece of the brand and people love it! The big yellow cup helped bring in a lot of user-generated content (UGC).
Final Piece of Advice and Useful Resources
The first advice Laura gives anybody, especially women, is '
Fake it till you make it
.' She sees it as something fantastic. Laura recommended Kim Scott's book 
Radical Candor
 that emphases that approach. Another book that resonated similarly is '
Who Cooked Adam Smith's Dinner
.' It explores women's contribution to economics and economic theory. Katrine Marcal makes this wonderful argument about Adam Smith being the father of free markets, the way we think about business, especially in this country.