During this first episode of Restaurants Reinvented, Jen Kern, the Chief Marketing Officer of Qu, chats with Justin Bartek, the Director of Marketing at JINYA Holdings about
Franchisees, MMA Campaign, and signing with new investors.
Bartek talks about how he got into the restaurant industry, covers his experiences working with several restaurants and provides insights into what's working at JINYA Holdings – the overarching brand for a variety of restaurants, including JINYA Ramen Bar, JINYA Ramen Express and Bushi by JINYA.
Episode Highlights
Justin started his professional career working in the music industry and even hosted a radio show in Los Angeles.
Justin got his breakthrough in the restaurant industry after interviewing for a job at Baja Fresh.
The role at Baja Fresh was more of a "catch all" role and allowed him to get a lot of exposure to marketing.
After experiences at Baja Fresh, Justin transitioned to Halal Guys and gained a lot of international marketing experience.
After the Director of Marketing left at Halal Guys, Justin got promoted to the role and helped grow the company's brand…which originally started as a street cart in Manhattan.
Justin mentions how his experience at Baja Fresh, Qdoba and Veggie Grill were focused on emerging brands and how he feels most comfortable in a startup environment.
When working with emerging brands, Justin likes how you get to interact directly with the CEO.
JINYA's ramen concepts originally started in Japan and then when the owner moved to Los Angeles, the first location opened up in Studio City in 2010.
Justin talks about the overarching reach of JINYA's brand, which includes a total of 40 locations in North America.
With ramen, Justin talks about how the restaurant can "fit anywhere" and ramen isn't merely a cold weather food.
According to Justin, most franchisees experience between a 15-20% return.
Craft beer is a part of JINYA's brand, which is a difference compared to Justin's past experiences with Halal Guys and other restaurants.
JINYA always had takeout, but until COVID-19, it wasn't really a big part of their sales.
Justin covers the key areas he's looking to jumpstart and optimize – mostly focused on building systems and establishing an effective technology stack.
Justin has a focus on setting up the brand for success and building a loyal audience – which includes over 63,000 raving fans on Instagram.
Justin is analyzing new pieces of technology for things he's unfamiliar with – functionality like wait lists and curbside.
Justin talks about the Franchisee Committee the company is establishing to build relationships across the different franchisee owners.
During the chat, Justin highlights some creative campaigns he's built over the years at Halal Guys and now at JINYA – especially a recent campaign with an MMA fighter in Las Vegas.
Right now, JINYA has a heavy focus on social media but does have a large email database to work with, too.
Justin feels society will get back to events eventually, even though we don't know what the timeframe will be.
One of Justin's biggest pieces of advice for marketers is to take care of the customers you have now because it's hard to get brand new customers in this environment.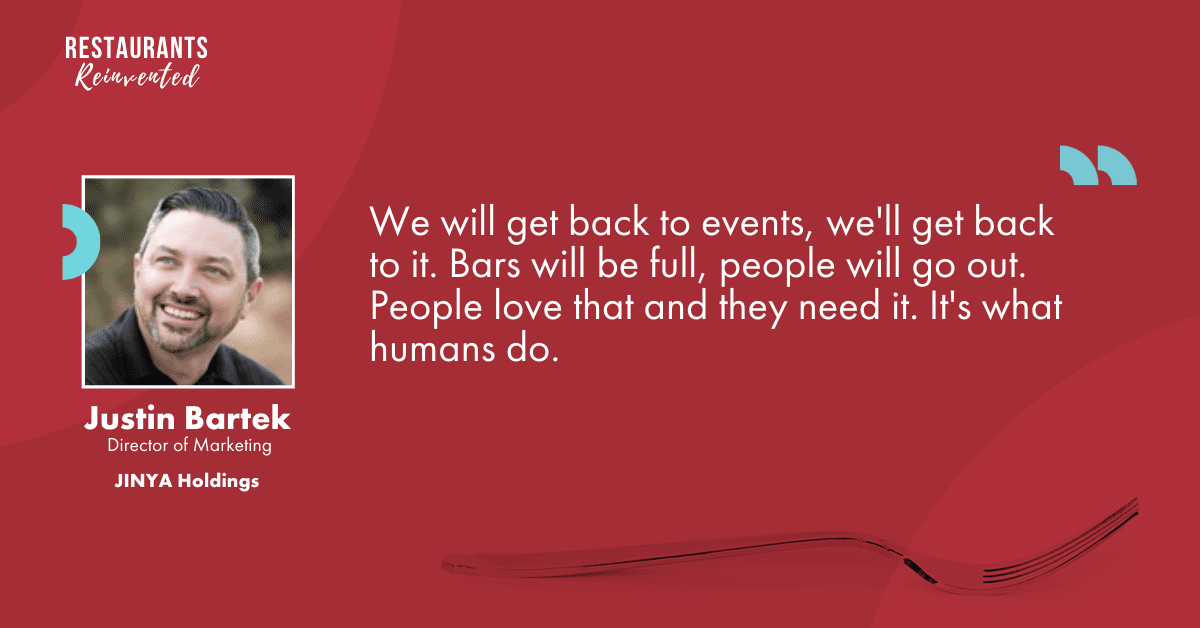 Episode Key Points
According to Justin, "…we were sort of in a place where we have to use what was here, you know, like we can't make sweeping changes because of COVID-19 and we had to pull back royalties for a franchise. We tried to help them out, but like that leaves us in less of a position to invest. So we've kind of been basically kicking the tires with different solutions."
Justin mentions how it's important to find the best tech partners, "So if it's loyalty, if it's POS, if it's whatever…I would rather work with the best and have them work, play nice, then have one solution for everything. Because when you get in that case…. there's a lot of add-ons and stuff that they don't specialize in."
Justin feels relationships are very important for restaurant marketing, "Like I don't sit back…I'll find a way to get in touch with people. Like most of the things that I've done in the restaurant space has been [around] relationships. So I'm a huge relationship person. So it's a mix of trying to take some time for yourself, but also, I'll go see what other people are doing on online."
Justin talks about the future of events "People want to be social. And I think that it will come back, but it might not be now it might be six months. It might be a full year. We don't know that, but we will get back to events. We'll get back to bars. We'll be full again. People will go out. People love that. They need it. It's a human thing. You know, that's what humans do."