Giving guests more ordering power via new channels and devices was a no-brainer for restaurant operators a few short years ago. With the introduction of online ordering, mobile apps and third-party delivery services, the prospects of revenue growth were promising. In fact, it seemed too good to be true, and—it was. 
Quick Service and Fast Casual restaurant chains are now suffering from a technological nightmare consisting of too many systems, which has spawned menu management chaos. 
We explore the immense amount of change operators have dealt with in the past decade—from the advent of cloud POS to channel and menu proliferation—in the "Rise, Fall & Rebirth of POS." And all this change, led by more digitally savvy and demanding guests, has created major menu management madness!
To help operators prepare for more manageable growth in the digital economy, we highlighted 6 Things Every Operator Needs to Know to position themselves, and their businesses, for success. The first thing is embracing the fact that POS has gone virtual. The second cold hard fact is growth-oriented chains can no longer sanely manage multiple menu systems —especially if continued growth and healthy margins are a priority.
Your menu should be delicious not disastrous!
Menu complexity has skyrocketed because third-party services require restaurants to adopt or create unique menu systems. Add this to the other existing menu systems created by online ordering, mobile, catering, kiosk, and in-store—and restaurants have suddenly found themselves in menu quicksand. More systems and channels translate to more fragmentation and workarounds. As a result, they've experienced major inefficiencies and frustrations managing menu consistency across channels, locations, and teams. 
A new, welcome season of technological innovation is here, and the promise of unification across disparate systems creates possibilities that simply did not exist before. Consolidating menu systems into a single platform with one unified codebase is critical. And, it's the first step toward addressing other common restaurant challenges: order fulfillment accuracy and speed, consistent guest experiences, and healthier profit margins. 
How to manage a single menu across channels
Qu has reimagined and rebuilt the entire POS to run on one unified "CORE" order processing engine. With this, restaurants can manage a single menu, QU-1MENU, and deploy in-store and across all ordering channels – including third-party delivery services. This processing engine, QU-1CORE, is based on a modern bi-directional API and common codebase.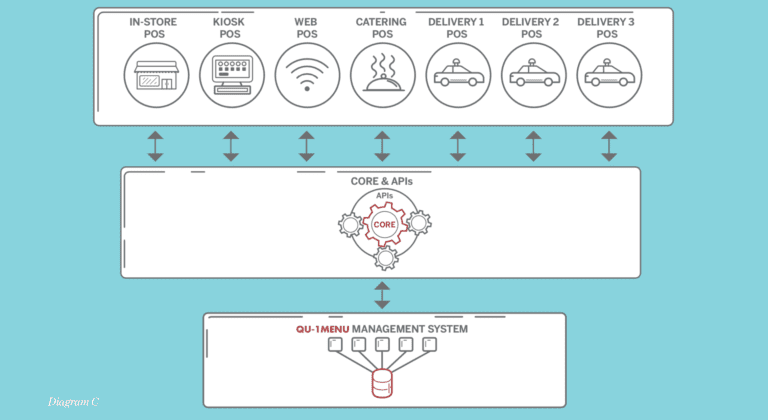 In less technical terms, our platform architecture ensures all transactions are processed the same way cross-channel and that changes are uniformly applied through one logic point, database, and engine. Updates to Qu-1MENU can be easily and holistically applied to other locations, menus, and brands as directed by the user.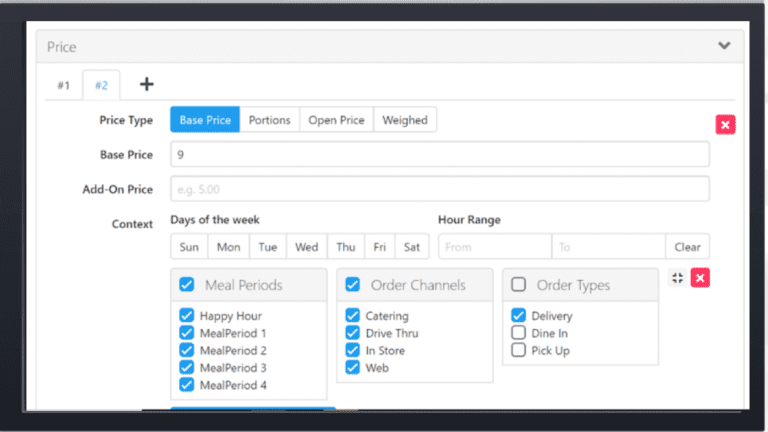 A complex menu made simple
Qu-1MENU stands apart from other POS menus, and there are a few reasons why. Unlike other platforms, Qu-1MENU is built to manage a true enterprise-level menu with an intuitive interface. 
Users can easily:
Update menu items  by filtering by any combination of location, order channel, and/or order type—all through one system. 
Create dynamic store groupings based on categories of similar data (groups) that need to be updated (i.e., discounts for low-performing stores, or seasonal items for location-specific stores)
Avoid duplicating menu items by reusing single items across the enterprise and stores. 
Manage and override items like price, ingredients, etc. 
Sort orders by any combination of location, order channel, order type, and meal period.
Improve decision-making by tracking and reporting data across the enterprise, specific brand, and/or channels. 
The user interface requires little training because it's so simple to understand. But don't let that fool you—the menu is built for deeply complex configuration. In fact, there are infinite modifiers and menu depth. 
All menu items can have a modifier, each modifier can have modifiers, which in turn can have modifiers and so on. This parent-child relationship can support any menu depth. 
See the visual below as an example: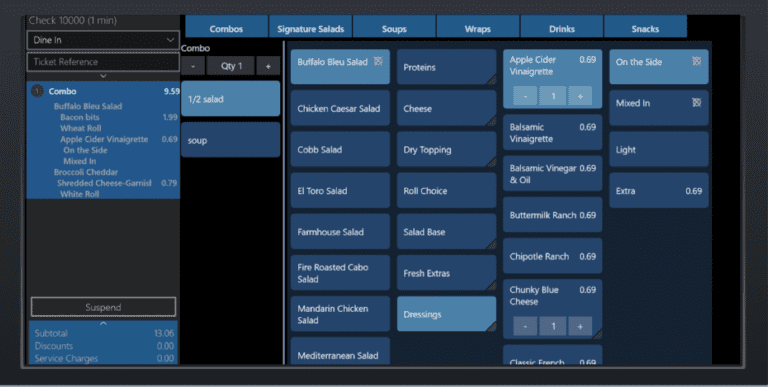 The Qu-1MENU screen shows a combo menu that allows the user to pick 1 salad and 1 soup. Both selections can be further modified: the salad has dressings, which can be doubled and you can add additional prep instructions like "mixed in" or "on the side."
With these game-changing simplifications to the POS menu systems, restaurants can step out of their technological nightmare and into the future, fostering innovation and next-level guest experiences. 
Redefining what's possible for restaurants chain operators
Technology can sound so … technical. But the real-life benefits are beyond tangible for brands using Qu-1MENU: 
Restaurants with a single menu system have integrated order taking, processing, and fulfillment across channels; including delivery.
Rather than the disjointed experience of third-party delivery menus missing key menu items, guests are delighted by unified brand experiences. 
And at long last, restaurants have cross-channel data to make informed decisions about key business functions, from selecting menu items to improving order processing speeds. 
A menu system for the future
Data proves that guests enjoy ordering from wherever they want, whenever they want, and all signs point toward the continued expansion of this concept. Who knows what new channels lie just ahead?  But the chaos of fragmented, questionably accurate menu systems across QSR and FC franchises has reached a breaking point. A new era is here – one filled with the promise of menu simplification and brand integrity across channels. 
Qu-1MENU enables restaurant operators to restore their focus to aspects of their business that matter most. And as guests continue to order from any wide range of channels, restaurants will be ready to tackle new challenges efficiently and with accuracy.