"Let's put the fun back in restaurant marketing!" Spreading optimism and joy are in Laura's DNA. No surprise she got into restaurant work as a teenager and immediately fell in love. "Restaurants are my heart. Restaurants are fun. And people are happy when you're bringing them food."
On this episode of Restaurants Reinvented, Jen talks to Laura about the importance of having fun with marketing, especially after everything we've been through this year. "Restaurants will come back. We will figure this out, and we will come back stronger" she says.
Laura also shares how Fuzzy's has successfully weathered the COVID-19 storm, a big part of which involved coordinating with over 100 franchisees nationwide. Laura also discusses the challenges and opportunities for restaurant marketers moving forward, and encourages embracing data, technology and change into 2021.
Through it all she goes back to the #1 focus of staying relevant with guests. Know your guest and give them what they want. Even if that means giving them something they don't know they want or need.
"Our brand is the environment, and the atmosphere and the vibe are so important. That is my challenge: How can I get that vibe home with people and still make them feel like they're in a Fuzzy's when they're eating our food? I'm very fortunate that the team here understands that and our franchisees are clamoring for it," she says.
"It's easy to just fall back on what you've always done," says Laura. "[But] we can't afford as an industry to do that. And certainly as a brand, we have to continue moving forward."
 Name: 
Laura Purser
 What she does:
 Laura is the Vice President of Marketing at Fuzzy's Taco Shop, a fast casual chain of taco shops that started in Fort Worth, Texas. She oversees franchising marketing and branding and runs menu innovation.
 Company: 
Fuzzy's Taco Shop
 Key Quote: 
"I just fell into restaurant marketing and loved it and had no intention of ever leaving once I got in because restaurants are fun and people are happy there. You're bringing people food and who doesn't love food?"
 Where to find Laura: 
LinkedIn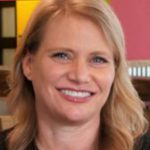 🌶️ One of the first things Laura did after the pandemic hit was get curbside services up and running as quickly as possible.
This didn't mean, however, that it was perfectly fine-tuned. The priority was getting it working, and now, with things settled down, Laura is focused on developing it further. Even with restaurants reopening in-store dining, she says Fuzzy's pickup services continue to be a priority.
🌶️ Despite being intimidated by technology, Laura recognizes that it's more important now than ever.
As such, the team at Fuzzy's focuses on using data collected over the past two years to better understand their guests. They've also implemented new methods of ordering and delivery and leverage social media to communicate with guests.
🌶️ During the COVID-19 pandemic,
Laura says she and the rest of Fuzzy's leadership team held weekly Zoom calls with franchisees because they were their number one priority. Laura and Fuzzy's executives covered PPP updates, tips about rent abatement and other resources for getting through the difficult time. Constant communication was essential, she says.
The value of being a "value" brand
"We are continuing to expand with franchisees. We've done really well. A lot of our expansion is with existing franchisees adding to their portfolios or adding to their development agreements. We're now starting to market ourselves as a franchise. Because we've weathered the storm better than a lot of other brands, people are definitely interested in us now as a value brand. It's helpful to be able to bring that to people when there's so much uncertainty."
The power of data for customer insight
"We're focused much more on digital than we have in the past. Digital has been fantastic for us. We've been able to optimize every single campaign based on what we've learned. We've got two years of data for all of our markets — who responds best and what they respond best to — but we need to expand that now and determine the best way to reach people."
Putting franchisees first
"We don't want to do anything technology-wise without understanding fully how it's going to impact the franchisees. We take extra care with that. And the beauty of the marketing side of it is we can do that big picture, brand-wide marketing through digital and then allow them to have their local sites as well. Within our rewards app or local digital, my LSM team can work with our agency to create digital marketing campaigns at the local level as well."
Getting through with operator loyalty
"The fact that we didn't have to close through any of this, that our restaurants stayed open, that our operators understood the importance of getting involved with their local community and reassuring them that we were still here for them and doing whatever we could to help them.
I think we've just helped to increase that loyalty at the individual shop level, which is very important."
Targeting diverse guests on a local level
"You'll have people in there in a three-piece suit and scrubs and shorts and flip flops all on the same day and at the same time. Sadly, but also wonderfully, we say that our target is anyone with a mouth. It's a little hard to target where I'm going all the time, but it also helps because I can hit several different people and make sure we're going to hit a Fuzzy's fan somewhere. We have that ability to take everything to a local level and talk to the people in that area about what makes sense for them."
Supporting franchisees through the COVID-19 pandemic
"Our leadership team came together quickly and just realized, 'We can't panic. We've got a great brand. We've got a great team. We've got great franchisees. We're going to just plow through and we're going to work together as a team and we're going to support those franchisees however we can to keep their restaurants open.' We made a deal among ourselves to roll out some new programs or training materials — anything — two to three a week for those first few weeks of the shutdown. We pushed ourselves to roll out new programs to support those franchisees."