Increased use of technology in the retail space has seeped into the world of restaurants and completely altered how quick service and fast casual chains operate today. The old service model where guests were forced to visit restaurants and stand in line to place their food orders is rapidly becoming a thing of the past. Today's dining landscape has guests demanding omni-channel ordering options including, mobile & online, self-service kiosks, and delivery services. In addition, restaurants are looking to improve overall operations by utilizing the cloud for enterprise-level location management, accessing real-time data to make smarter decisions, and protecting operation and guest data with modern security protocols. These trends have resulted in the rapid introduction of several new products/services and, in turn, the need for a simple way to integrate and manage these disparate technologies.
Modern POS systems are playing an increasingly critical role as a central hub in integrating and managing complex technology eco-systems, thus allowing restaurants to stay competitive. The right POS system for today's fast casual and quick service restaurant environment needs to be able to support five key internal and external drivers that affect guest experience and restaurant operations: mobile/online services, self-service kiosks, third-party delivery, cloud services, and smart data.
According to Forrester, over 77% of all American adults own smartphones and over 94% access the Internet daily. As a result, the phone has become the go-to source for consumers to instantly access information and perform tasks. From a restaurant perspective, guest requests center around two main areas: 1) the ability to digitally place online orders and 2) being rewarded through their digital loyalty program. The charts below demonstrate the importance restaurant guests place on the ability to engage via technology. As a result, enabling digital platforms in restaurants is no longer a nice-to-have; it is instead a requirement.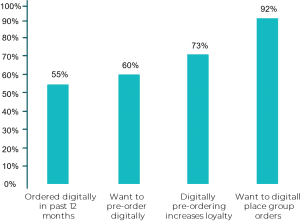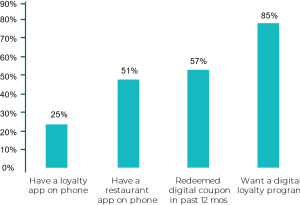 In a recent survey by Statista, over 60% of restaurant visitors stated that they would leave a location if the line at the quick service or fast casual restaurant they were visiting was greater than 5 people.  This makes reducing lines critical to maximizing guest satisfaction and increasing repeat visits.  The installation of
self-service kiosks in restaurants is one way to minimize line length.  As seen in the charts below, self-service kiosks can help prevent customers from walking out; more importantly, the demand for them is not limited to millennials but extends across all age groups. When employed properly, self-service kiosks have proven to not only improve speed of service in restaurants, but also increase average check size by over 20% at fast casual and quick service chains.
Food delivery was a $43B market in 2017 and, according to Morgan Stanley, has the potential to grow to $220B by 2020. The driver for the delivery trend is the premium today's consumers place on their time.  According to the National Restaurant Association (NRA), 74% of the time millennials prefer delivery versus dining-in.  In fact, in a recent survey, the NRA determined that 3 out of 5 consumers in 2017 ordered delivery or takeout at least once per week. The preferred method for consumers to place orders is via third-party delivery services that aggregate orders from multiple restaurants, with over 60% going down this route versus directly to an individual restaurant. This has led to a rise in third-party vendors, thereby increasing the number of delivery services each chain needs to partner with. For restaurants to capitalize on the delivery opportunity in the market, they need to optimize delivery partner integrations and minimize operational complexities.
Growing from a single footprint to multiple locations can exponentially increase the time and effort it takes to manage a chain. To minimize the amount of work it takes to oversee multiple stores, restaurants today are implementing cloud services and centrally managing all of their locations. No longer is it necessary to go to each physical location to make a menu change or update pricing & discounts. Moving to a cloud-based system can also has improve security by incorporating encryption protocols and eliminating the risk of a security breach. However, if not architected properly, leveraging cloud services to operate a restaurant can lead to issues when the Internet is down. When deploying cloud-services, it is important to ensure that you capture all of the benefits of the cloud without becoming so dependent on the network that you are unable to stay up and running when your network is offline.
Without the ability to access and analyze information about your restaurant's inner-workings, it is impossible to improve operations. In fact, accessible and actionable data is a prerequisite to making smart decisions. Gathering and consolidating reliable data from numerous storefronts, however, can be challenging and time-consuming. When dealing with multiple locations, it is not uncommon to receive inconsistent and untimely information in a format that is difficult to rollup at the corporate level. Using the right cloud services model at your restaurant to store data can resolve information access, but access alone will not help you make smart decisions. This requires being able to get and consolidate data and breaking it down in whatever way your business needs. And more often than not, success comes from being able to reliably replicate reporting anytime, anywhere, and on any device so you can identify and react to trends quickly.
MOVING TOWARDS THE FUTURE
Keeping on top of where the industry is going and wanting to move towards the future is the easy part, understanding where you are and knowing what to do to reach your end goal is more difficult. At Qu we are committed to partnering with clients to ensure their technology solutions support their goals today and position them for future success. To learn more or to schedule a demo, please visit our website at www.qubeyond.com or email [email protected]
Qu™, formerly Gusto®, is going beyond traditional Point of Sale (POS) technology with a singular focus on fast casual and quick service restaurant chains. Leveraging an API-first approach and a core suite of omni-channel ordering solutions, Qu delivers an enterprise-scale, cloud-based POS solution that's fast, flexible, and forward-thinking, making it easy to implement, easy to use, and easy to afford. Improved guest experience, best-in-class integrations, and centralized enterprise management are some of the reasons leading restaurant chains choose Qu to help them move faster, stay nimble, and increase profits. Learn more at qubeyond.com or email [email protected].