Ghost kitchens and its associated technology, in various incarnations, forms, and models, offer an exciting opportunity for restaurants and foodservice businesses.
90% of restaurants experienced digital growth last year with 20% reporting growth of over 100%

Online ordering, mobile apps, and delivery are the three biggest priorities for 2021

47% of brands plan to launch a new virtual kitchen concept this year xcv
It's no wonder the ghost kitchen market is expected to reach a market value of $1 trillion by 2030.
They offer the potential for adding new channels to reach new customers without the typical high start-up costs and risks of a new brick-and-mortar restaurant. But how does an established brand navigate this emerging market with all its intricacies and complexities?
In this post, we'll discuss practical tips and strategies to consider when launching any type of ghost kitchen or virtual restaurant brand. But first, let's take a look at some of the different names and business models that make up the world of ghost or cloud kitchens.
Ghost kitchen terminology
Ghost kitchen – a kitchen optimized for delivery orders that could be used by one or multiple businesses and virtual restaurants
Host kitchen – rent out your existing kitchen space to other virtual restaurants or food brands
Cloud kitchen – often used interchangeably with ghost kitchen; uses technology to accept online orders and efficiently produce food for delivery
Virtual brand or virtual restaurant – a delivery-only concept that operates out of host, ghost, or cloud kitchens
10 virtual brand and ghost kitchen best practices
1. Look for gaps in the market
Look at your competitors and at what people are searching for. Then go where the demand is. Ask yourself: What are consumers looking for and how do you get it into their hands?
If you're already running a successful restaurant brand, you'll have a sense of what is missing in certain markets. The beauty of the ghost kitchen model is that you can try out concepts with minimal capital expenditure and then look at the data and see what's working best.
You might consider a low-entry point option to kick-start interest in a new brand. Famous Dave's found success with its $3 burger on Mondays even with the incredibly tight margins this entailed. The volume they were able to do made it worthwhile given the excitement the promotion generated.
The margin may be tight but the value is in getting people ordering from you and offering add-ons and upsells.
Estimates say that 20% of the menu does around 80% of the business. So it may be more efficient and cost-effective to cut menu items that aren't performing than to overcomplicate a menu and offer too much choice.
Refine your offering and ensure your existing cooks can still handle a busy line. Prioritize menu items that hold best without degrading and are best suited to a trip on the back of a motorbike.
3. Don't be afraid to experiment
The beauty of ghost kitchens is the ability to test and try different concepts with relatively little risk. This is especially true if you are adding a virtual restaurant to an existing operation.
You can test new concepts with ingredients you already have on your line. If they don't work, it's no great loss, you can kill them without much expenditure.
If they do work, you can expand them and continue to test and iterate from there.
During 2020, we saw a crowded market with a low barrier to entry become a saturated marketplace with almost every restaurant offering online ordering and off-premise dining.
Brands that are going to succeed in the longer term must focus on the quality of food, value in the price point, and differentiation. It may well be an irrational market at the moment, but that will not last. Successful restaurant brands will be looking ahead and making plans for the future.
5. Nail your digital marketing
Without a brick-and-mortar storefront at a high street location, your digital storefront is all your potential customers see. It is your only opportunity to engage and show off your brand.
A virtual restaurant brand should be given the same time, love, and care as your brick-and-mortar brands. 
Brands are using instantly memorable names for virtual restaurants – think Mother Clucker – with eye-catching branding to stand out on delivery apps. An inventive name can capture more market share and give you a boost but the most important thing is to have a sustainable product that has legs for the long term. Repeat customers are more important overall.
6. Own your Google My Business page
Your My Business page is often the first place online that customers will find you when they are searching for a restaurant.
Every business can claim it for free and you can edit that page to maintain control of the customer experience. You can direct customers to order directly from you, or send them to whichever ordering platform you want them to use.
7. Don't cannibalize your existing business.
Make sure the concept works with the existing restaurant kitchen. For the ultimate in efficiency, a new virtual brand shouldn't require extra storage needs, too many ingredients, or additional labor. 
If you can spin-off from what you already have but create more demand at different times of day or add a cuisine that isn't available at a location.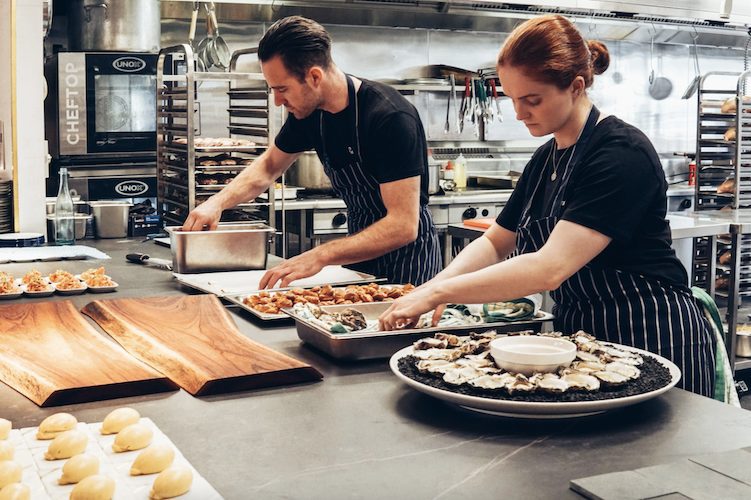 Look at what you can do without affecting your existing business. Can you add one extra ingredient and create a whole new brand? Can you create a new brand using similar cooking equipment and not too much extra training?
Dog Haus, for example, managed to add sales at a time that they were normally quiet. Simply by adding a tortilla to their existing product mix they created a breakfast burrito that became a morning favorite.
When you're adding a virtual brand, you want to be hitting at least a 30% margin. If not, it's unlikely to be worth it.
Orders are going to have to be high volume – 1000-1500 a week – to achieve success given the third-party fees. Key areas where you can cut costs are in understanding and managing recipe costing and reducing waste.
If you're unable to achieve a 30% margin, it may be wise to rethink your strategy, streamline the menu, and see what more you can do with your existing setup.
9. Build and utilize a strong partnership with tech partners
In such a fast-moving landscape, the connection between tech providers and restaurant brands is more important than ever.
Get in the room with your tech partners and don't be afraid to have a bad idea in front of other people. Listen to others with a different perspective. Communication is a two-way street and the tech guys will come at problems from a completely new angle.
Choose a tech partner with excellent support. Make sure you can pick up the phone and talk to someone especially with a complicated tech stack, as you don't want to be trying to troubleshoot an issue with a chatbot in the middle of your weekend rush.
It's also crucial that you work with a team that can support you to scale your operation sustainably.

10. Reallocate labor rather than cutting staff
To add a new channel without compromising, utilize the staff you already have better. Too many brands think the way to solve their problems is to cut staff. But this often leads to issues down the road.
If you can save jobs by adding value to that labor while adding revenue, rather than just cutting positions, it's a win-win.
Don't necessarily rely on the ghost kitchen model for growth. It's a way to improve efficiency while boosting revenue. Using existing resources to improve your current operation while adding a new sales channel.
Ready to launch your own ghost kitchen?
In the fast-moving world of ghost kitchens which is ever-evolving and ripe for even more disruption, it's important to be nimble and adapt quickly while also having a long-term success mindset.
KitchenUp from Qu is specifically made to help restaurant brands make the most of the ghost and host kitchen model while remaining agile.
Because Qu was already building with a scalable, API-first cloud architecture from the get-go, it naturally lent itself to the ghost kitchen model as it grew in prominence.
Brands up and down the country are finding success launching new channels with KitchenUp. See how Genghis Grill used KitchenUp to launch their new virtual brand, Stir Fry Chef, in under 8 weeks, start to finish.
Get in touch with Qu to talk about launching your cloud kitchen quickly and efficiently!